September is here, and this means some larger coho aka silver salmon should be showing up in the next few weeks. This is one of my favourite times of the season and for good reason. When found, coho can provide some of the most exhilarating, hard, and aggressive hits of any salmon species. Here are a few coho tips that will help you get more of these fun—and tasty—fish into your net.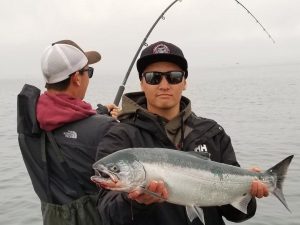 Using either an MR2LA or MR3, I find it is good to troll slightly faster then one would for other salmon species as much as 3-4.5 knots some days. I like to start in about 200 feet of water and work my way out until I can find them. Once located, either by getting bites or seeing jumpers stick around the same area. Do circles, zig-zags, and fish different depths.
I always start shallow in the morning, surface to 40 feet usually does the job. If that's not working try going slightly deeper to 80-120 feet. Some days that is where they are. I usually fish three or four rods, by doing this I can put different lures on and see what they are liking on that particular day.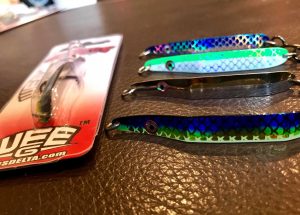 My go to coho lures are:
Yamashita Glow Army truck hoochie—an old school favourite of mine: time and time again this hootchie out-fishes everything I have down
Gibbs Herring Aid Skinny G Spoon
Gibbs G Force Irish Cream 3.5-4" Spoon
Gold star Splatter Back Needlefish Squirt
When it's slow or coho are being picky then an anchovy in a glow green Rhys Davis Teaser head.
Flasher colours are always some sort of green or chartreuse with silver.
Hope you have a great Coho season chasing these fun and feisty fish but be ready… when you get on them, the action can be fast and furious.
-Nelson Karger
Nelson is a year round guide on British Columbia's Vancouver Island. In the winter you can find him on the rivers like the Nitnat and Cowichan where he hosts trout and steelhead anglers while in the summer he stays busy on the saltchuck guiding for salmon and halibut out of Port Renfrew, BC.