The Seed is Planted
A few years ago I was invited to join several members of the Ospreys Fly-Fishers on a fly-fishing excursion to Mexico. I quickly turned down the offer as I knew nothing about warm water fly-fishing and didn't have any of the appropriate gear required for a bonefish fishery. Another year had passed and once again I was asked if I wanted to join the gang on a trip to Mexico. This time I brought it up with a good fishing buddy Andrew and he said sure let's give it a try. Well we accepted the offer and since that trip we could hardly wait for our next warm water fly-fishing excursion.
Plan Ahead
While planning for our March trip we quickly realized that we were nowhere near prepared for such a trip. Fortunately my buddies Rudy and Henry sat down with our group and filled us all in on what we needed to make this a successful trip. Honestly they had me at the word bonefish as I heard for many years that these fish fight extremely hard once hooked. The other interesting aspect of this fishery is the fact it is all sight-fishing which is very appealing to most fly-fisherman.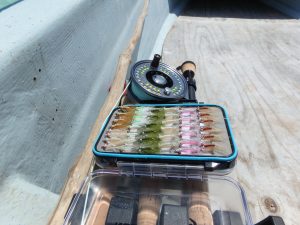 When it comes to equipment, eight weight rods and Islander LX 3.8 reels will be ideal for this fishery but the fly lines we use in BC do not work in tropical waters, as they literally turn to spaghetti. On a positive note, all that is required when targeting bonefish is a floating line as the majority of the fishing will be done in less than three feet of water.
The most time consuming part for us to get ready was flies as we had nothing that would work for bonefish in our fly boxes. I ended up going a little overboard and tied over three hundred bonefish and permit style patterns on stainless hooks. The flies are relatively easy to tie as the majority of them are Crazy Charlie style flies in different colors. We were told that the most productive color is a sandy blonde color. As for clothing we needed to purchase long sleeve tropics shirts, pants, buffs, gloves and special wading boots. As it turns out the boots are a must as you will walk many miles over a sharp lava bottom. With all that behind us it was only a few sleeps until the expedition was to begin.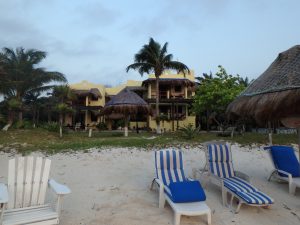 Getting There
Our journey started at first light at Vancouver heading for Cancun. I figured the six hour flight was the longest part of the journey but I stood corrected when Rudy said now we only have a six hour drive to Xcalak on our transfer bus. Fortunately the drive wasn't as bad as it sounds as the driver brought us a cooler filled with ice cold Corona and we stopped for a nice dinner as we passed through Tulum. As it turned out I think I only said "are we there yet" to Rudy about twenty times before we pulled into the Tierra Maya Resort in the town of Xcalak.
Well our journey started in the dark and finished in the dark as we arrived at the resort at about 11:00 pm. At first light we looked out our patio door to see that there was indeed an ocean in front of us. This sounds odd but there wasn't much to see the night before and we called it a night shortly after arriving.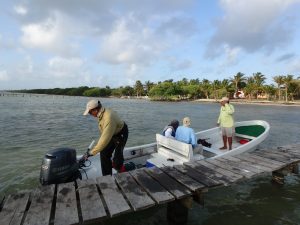 After breakfast we all grabbed our rods and headed for the wharf where we met our guides for the first time. Andrew and I had a very nice guide by the name of Jose. Jose's English wasn't the best but it was good enough for us to communicate while on the water. Our guide started by asking us what kind of fish we wanted to pursue on day one. At the same time we both said bonefish as we had never pursued them in our lives and they would be the easiest species to target in the area.
It's Still Fishing
Unfortunately for all of us day one started out to be extremely windy so our options were limited to areas that were somewhat sheltered. Jose started by poling us across the flats but it turned out to be difficult as the wind dictated the movement of the boat. After a few hours we tucked into a large bay where Andrew hooked the first fish of the trip.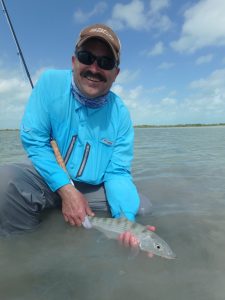 It all started when Jose said fish at forty feet, Andrew dropped his fly a couple feet in front of the cruising fish and started retrieving. Before he knew what was going on his reel was singing as the bonefish headed across the shoal at an alarming rate. This was an exciting moment for both of us as a plan was finally coming fruition after three long months of preparation. Everything we had heard about in regards to the fight of a bonefish was true, wow can they run.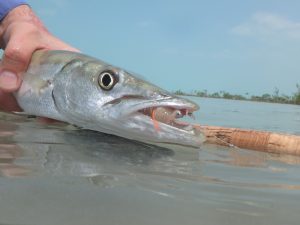 Listen to Your Guide
Once Andrew landed his prized catch, a picture was taken and bonefish was quickly released to fight again. A short while later I noticed a fish cruising about fifty feet in front of me. Jose said don't cast to it but I really didn't understand why, my line tightened and now it was my turn to fight a fish. It only a minute to realize why Jose said don't cast at that fish. As it turned out it was a small Barracuda about sixteen inches long. I know it wasn't what we were after but it still brought a smile to my face.
Throughout the day we tried several more hidden bays with limited results. That said I did land my first ever bonefish which was only about ten inches long but never the less it was a bonefish. The first day was a lot of fun but a little less productive than we were hoping for. Once back at the resort we found out that the rest of our gang had similar results due to the relentless winds. Even with day one producing limited results we all had a great evening chatting about our day on the water.
Eyes on the Prize
When day two arrived to winds were calm and we were all very enthusiastic anglers. With an unbroken surface it would not only be easier to cast but more importantly we would be able to spot the fish in the shallow water. On this morning the gang headed in different directions in hopes of finding different species to target. Some were after Tarpon, some permit and a few of us after bonefish again.
Andrew and I ended up fishing an area that required a lot of walking over flats through the mangrove bushes. This resulted is us catching a lot more fish as we ended up hooking over a dozen decent bonefish throughout the day. In fact we even managed to have two double headers which is not an easy feat as bonefish spook very easily. To give you an idea on how easy they spook, I had a bird fly over a fish I was pursuing and the shadow spooked my fish away before a made a cast.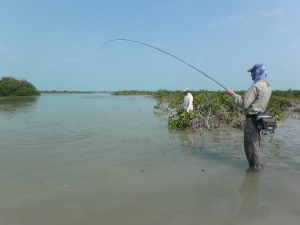 For us we really preferred fishing while wading as both of us can fish at the same time verses one watching when fishing from a boat. The biggest change to adapt to when bonefish fishing is the hook set itself. My whole life I lifted the rod tip to set the hook when a fish is detected and for bonefish a line set is required or you will miss the fish, plain and simple. On more than one occasion we hefted the rod and it was all over as fast as it started.
Good Times All Around
Once back at the resort that afternoon we quickly realized that everyone had a great day on the water. Our group of eight had landed at least one permit, tarpon, barracuda and numerous bonefish all in one day. It was amazing how much more productive it is when you can actually see the fish and cast to them without the wind interfering. The ultimate goal when fishing in a warm water destination is to catch a grand slam. This is achieved when an angler catches a tarpon, permit and bonefish all in the same day. On this trip no one in our group achieved this monumental feat.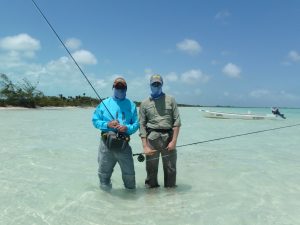 Day three was the best day that Andrew and I had on the water; we headed back into the fishing grounds at 8am in search of bonefish once again. We had planned on targeting a variety of fish species on this trip but we really could not get enough of the bonefish so we keep on targeting them. By the end of the day we had hooked close to twenty bonefish between the two of us.
Over the next three days the wind cooperated for the most part allowing us to at least see the fish we were casting too. That said it definitely took a couple days for our eyes to adapt to spotting fish as bonefish blend in very well on the flats. Many times when the sun is at the right angle you will actually see the shadow on the bottom before actually seeing the fish. We all had an outstanding time eating good food, doing a little fishing, having a few drinks and sharing many laughs. We can hardly wait for our next trip back.
Plan Your Own Getaway
Many of the warm water destination trips are package deals. You must find your own way to Mexico and then it is all inclusive excluding alcohol. Our trip included the transfer from the airport, accommodations, all meals, and guiding. The guides provided us with lunch while on the water and we tipped our guide $50 US per day each.
As I'm writing this article I am in the midst of preparing for my next trip. This year Andrew and I are going to try targeting other specs now that we have had the bonefish experience. If you have ever considered pursuing bonefish with a fly, stopping thinking about it and book a trip to a warm water destination. The experience is nothing short of amazing and you too will get hooked on this type of unique fishery.
–Tom Johannesen
An avid angler, seminar host, and writer, Tom Johanesen has had over 200 works published in a plethora of Outdoor Magazines. From his home base in Coquitlam, British Columbia Canada, he explores his home waters and beyond.