In anticipation of the upcoming Father's Day Derby at new Islander Destination, The West Coast Fishing Club, Islander's Steve Rennalls had the chance to speak with special Guest Les Stroud aka Survivorman. They touch on a variety of subjects including growing up in Toronto, his transition to outdoor adventure, and the connection between fishing and family. Enjoy!
The Origins of Survivorman
SR: Let's start with some basics… Where did you grow up?
LS: I grew up in Toronto during the week, but on a small cottage in Ontario's Muskoka region on the weekends. At the time, a big part of that life was time on the water with my family. In those days—the 70s—it was different…you know…tin boat, a 9.9 Johnson and as many largemouth bass as you could keep. Problem was that that's what everyone was doing, and those once prolific fishing lakes were really hurting.
By the 80s, things were so bad that most people on the lakes had moved on to other activities… jet skis, boating, and waterskiing and the fishing heritage shrank.
On the upside, because of the shift in interests, the region's lakes have had a chance to recover and from what I understand, these days you've got a great shot at landing a trophy.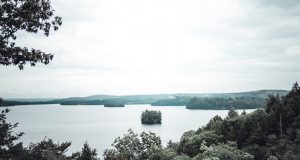 SR: Did those experiences continue as you grew up?
LS: Well, I was kind of like everyone else on the lake. As I got older, I drifted into other activities. Going to the cottage became more about horseshoes and good times around the campfire than about fishing.
SR: So you grew up in Toronto—Canada's largest city—but are famous for voluntarily putting yourself into worst-case wilderness scenarios, surviving, and filming it all for the Discovery Channel… That's a big jump for a city boy. At some point I'm assuming you fell in love with the wilderness before deciding you wanted to be able to survive in it. What did that journey look like?
LS: As I got into my teenage years, music became a huge part of my life. I wanted to be [Neil] Young or Led Zeppelin. Music was 'it' and I had some minor success playing it. That said, I didn't really have the passion to take it all the way and at 25 I started looking back to the outdoors.
I decided to take a Survival course at Humber College in Toronto and by the time I was done I had found my true passion. I dropped the music career and went full-on into the outdoor lifestyle which at the time was still sort of underground.
I was mastering all sorts of wilderness skills; canoe, kayak, dog sled, winter camping, whitewater paddling…basically everything but rock climbing for some reason…Actually not "some reason" I know the reason—I'm afraid of heights! Basically, I wanted to know it all and became a bit of a generalist.
As part of that journey I guided across Quebec, Northern Ontario, even the Northwest Territories. Amongst my guiding peers, I usually wasn't the best at any one skill, but I typically had a much broader skill set then they did. We'd be walking a long on a portage and I'd be pointing out to our guests "hey see that plant, that's an edible one" or "take a look at those X birds over there… they're really rare." The other guides—while experts on the water—didn't really have that same breadth of interest.
Finding New Ways to Get Outside
SR: Survival skills are interesting and fun, but they're typically not a reason to enjoy the wilderness in and of themselves. As in, you want to have those skills in case something terrible were to happen, but nobody looks for terrible situations just to use their skills (unless of course there's an opportunity for a TV show involved of course). For you—other than exercising your bushcraft skills—what brings you into the outdoors nowadays?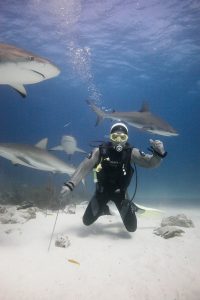 LS: Well like I said, I'm a bit of a generalist and part of how I enjoy the outdoors is about learning new skills. Over the years I've dropped a few of the activities and picked up others.
My latest is road cycling. It's a skill that I can take around the world with me and allows me to enjoy new places in new ways.
I also started Scuba diving about ten years ago and absolutely love it for the opportunity to explore a whole new part of the world.
That said, I still always make time for a whitewater paddling trip every couple years and hiking is something that is just a given in my life. I'm out virtually every weekend that I'm at my home in Oregon. The state has something like 1000 trails and I try to see as many of them as possible.
SR: Much like your own journey, there's a lot of experiences between the city and surviving disaster and it seems like those same fans are often a little lost on where to start enjoying the outdoors with their families. What would you tell them?
LS: I'd point to exactly how I started: take a course. I did mine at Humber College in the middle of Toronto in the 80s. It doesn't have to be a grand adventure; you can start with the nature in your backyard. I found and ate my first edible plant as part of that course in the Humber Valley in the middle of the city.
The best part about these courses is that the people who teach them are almost always exceptionally knowledgeable because you don't become a wilderness instructor unless you're a geek about it yourself!
A Special Kind of Family Time
SR: We're having this chat because of your involvement with the Father's Day Derby at the West Coast Fishing Club from June 16-20. Which I assume means you have kids?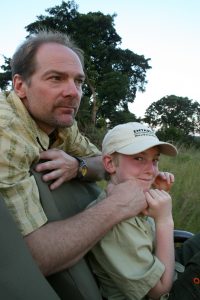 LS: That's right, I've got a 23-year-old daughter and a 21-year-old son.
SR: How has your experience and enjoyment of the wilderness changed as you have raised your children?
LS: When they were still toddlers, it was before Survivorman. I was still guiding and instructing and they were along for the ride. That said, it didn't take us very long to learn a very important rule about backcountry canoe trips with young kids; you can do it, but you'll be going half as far and it's going to take you twice as long.
Of course, what you get out of it also changes. It's cliché, but being able to see your son or daughter fascinated with playing with a leech or a frog or even a clump of dirt helps you appreciate things in new ways.
SR: How has fishing facilitated that journey?
LS: That's been an interesting part of the story. I never really fished after my own childhood experiences in Muskoka—the outdoor adventure world seems to be distinct from the fishing world—but when my kids were around seven I started taking them out at our cottage and it's been part of our life since.
And it's really that age old connection isn't it? There's just something about a father taking his kids out fishing that is a totally unique bonding time.
I think what really makes it unique is that it's really your one shot at being on equal footing with Dad. Even when my son was 16, if we played hockey, me in my 40s (with my own hockey experience) could still pull out the man-strength and kick his ass, but when we've got our lines in the water, we've both got an equal shot at catching the big one.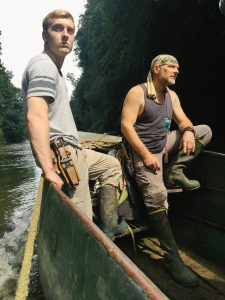 SR: Your son is now a young adult and will be joining you on your upcoming trip to The West Coast Fishing Club, what does it mean to escape onto the water together now?
LS: I think it relates back to the last question. It's a unifying experience…It's contemplative…It's meditative…We "feel" something together that you just don't get anywhere else. When you're sitting in the boat together in silence it's almost like a collective consciousness. You understand that you're sharing the same special experience, but it remains totally unspoken.
Father's Day at The West Coast Fishing Club
SR: You had your first experience at The West Coast Fishing Club last Father's Day. What's so special about their lodge?
LS: There's kind of two parts to fishing. There's the painful part; the waking up at 5am to go stand out in the cold rain and wait for the bite. Then there's the thrill part; the anticipation of the bite, the line peeling off, the stories and laughs afterwards.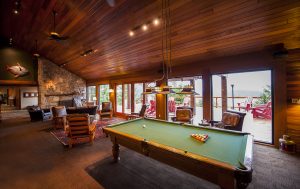 The West Coast Fishing Club has done an incredible job of minimizing the painful part and maximizing the thrill. Their guides are exceptional, the comfort of their facilities is exceptional, the food is exceptional, the opportunity to socialize and share in the experience with other guests is exceptional…They just have it totally dialed in.
The best part of it all is that at their core the experience is still ALL about fishing. These guys are anglers at heart and all of the comforts are not there for comfort's sake. They're there so that you can maximally enjoy the angling experience they offer.
SR: What can fans expect from "Survivorman" in the future?
LS: As you mentioned, I'll be at The West Coast Fishing Club for their annual Father's Day Trip which will be a great event. This year—in addition to as much fishing as possible—I'll be leading a hike on one of the days along with my son.
I'm also excited because I've got a podcast in the works. It's something that's long overdue and we're aiming for an August launch.
To get the latest updates from Les about his trip, the new podcast, and a few other surprises he has in the works follow him on Instagram, Facebook, and Twitter.
To learn about The West Coast Club's Father's Day Derby June 16-20 visit their event page here.