While it's been practiced for years across the Atlantic, European nymphing is becoming extremely popular here in North America and with good reason—it's arguably the most effective way to target trout and other species in rivers across the continent.

The Presentation
Euro-nymphing is a relatively easy tactic to learn, however to become truly proficient, one must devote a lot of practice and time to it, especially when it comes to fishing with small flies and delicate leaders. For those who may not know what euro-nymping is, it can basically be compared to 'tightline nymphing.' A heavy fly weighted with a tungsten bead and tied with a slim profile is used and the angler maintains tension to the fly through the use of a long leader.
Typically euro-nymphing is a close quarters game, with most fishing taking place right under the rod tip, however with practice and various other leader setups, you could fish outwards of forty feet from the rod tip effectively.
The Leader
As far as leader construction goes, generally the leader is twice the length of the rod (most nymphing rods are ten footers), and consists of a stiff butt section for turning the fly over, a sighter section (coloured monofilament) used to maintain a visual on where your leader is at all times, and then your tippet, which is usually equivalent to the depth of water which you are fishing. Personally I prefer to fish a leader with a total length around thirty feet, which allows me to fish greater distances more effectively. I find Maxima chameleon to work well for the butt section of the leader as it is quite stiff, and I like to use Hanak Bicolor indicator for my sighter material.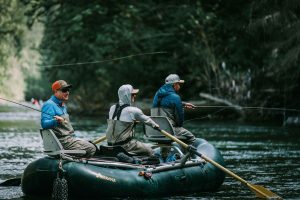 The Tippet
For tippet, it is important to consider line diameter and sink rate of your fly. The heavier the tippet is, the slower your fly will sink, as there is more drag created by the line. Typically in the winter when I am fishing with larger, heavier patterns, I will use 4x flourocarbon, and for smaller flies I use 5x and 6x for the rest of the season.

The Rod and Reel
Most fly rod manufactures produce a euro-nymphing rod nowadays. The rods are typically 9'6" to 11' long ranging from 2wt to 5wt. Euro-nymphing fly rods are not like a typical fly rod, in the sense that they are designed with a very stiff back end of the rod and a light, sensitive tip for detecting strikes. My favorite rod which covers the widest variety of fishing conditions I encounter is a 10' 3wt rod, coupled with my favorite trout reel, the IR 3.
Rod and leader setup only goes so far, and the most successful euro-nymphing anglers are the ones that spend the time on the water to learn the methods and consistently practice the techniques. There is no better word of advice that can ever top spending time on the water learning.

Getting Started
If euro-nymphing is something you have always heard about but never tried, there is no better time to start learning than now, with most rivers across the west opening for the season. If you are hesitant to spend the money on a new rod, then simply try fishing a euro-nymphing leader on any standard 9' 5wt rod, and go from there. It is more challenging with the shorter rod, but keep in mind that the principles are the same and if you can do it with the short rod, you will be pro with an actual euro-nymph rod in no time.
-Brennan Lund
Want to learn from Brennan himself? Reach out to St. Mary Angler Fly Shop located in Cranbrook, a small village in the heart of the East Kootenay region of British Columbia and book a trip for the famous Westslope Cutthroat and Bull Trout of the Northern Rockies. Brennan also guides in the Skeena Region and the lakes and rivers around Kamloops, BC when he isn't in class working towards his Natural Resource Science degree at Thompson Rivers University. 
Photos by Chase White