When I wrote my first article on bonefish fishing in Xcalak, Mexico, I mentioned that I was currently planning another trip back to pursue bonefish once again. Now that I've been home from that trip for over a year, I figured it was time to share the outcome of that fishing excursion.
Getting There
On my first trip to Xcalak it seamed like it took forever to get to the Tierra Maya Lodge from the airport in Cancun. Now that I know what to expect the drive honestly did not seam as long as I remembered. Once again, we started out in Vancouver at first light and ended up at the lodge at around midnight. When we pulled into the lodge our friends Rudy and Henry were there waiting to greet us as they went with another group for a week prior to our gang of eight arriving. Personally, fifteen days is a little too long for me, but these guys are really addicted to the warmwater fly-fishing experience.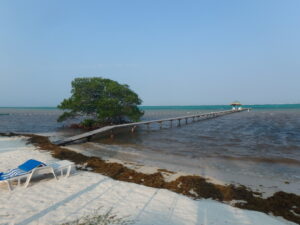 The first thing we noticed when stepping out of the van was the fierce wind coming off the ocean. The wind was absolutely howling to put it mildly. I asked the boys how the weather had been over the past week and within seconds they both said very windy. As for fishing they said the Bonefish fishing was quite good but none of the ten guys in the first group had landed any Permit or Tarpon. That said we made the long journey here to pursue bonefish and it sounds like there were lots of them to go around weather permitting.
Hold On to your Hat
Before we knew it, morning had arrived, and the wind had not let up all night. In fact, I was surprised that we were actually going to head out on the water in a relatively small open boat with such large waves. Once again Andrew was my fishing partner for the trip and we were fortunate to get Jose as our guide again for the next six days on the water.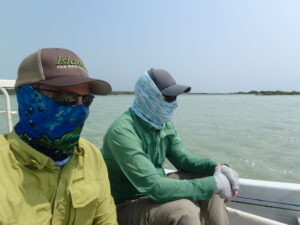 The boat trip to Chetumal Bay along the inside of the reef was a little rough to put it mildly but we made it safe and sound and no worse for wear. The large inland bay was somewhat sheltered from the open ocean, but it was still going to be a challenge to lay out a clean cast in the strong winds. On our first trip to Xcalak Jose would start the day by asking us what species of fish we wanted to fish for but this year he just headed straight for the Permit grounds as he figured it was time for us to man up and try pursuing something a little larger and harder to catch than a Bonefish. Not to say that catching a Bonefish on a fly is an easy thing to accomplish. Later that night while having a drink with the boys, I found out that Rudy told Jose to try and get us into a Permit on day one as we spend very little time pursuing them the last time we were there.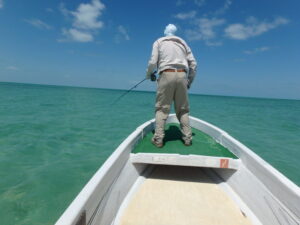 The Elusive Permit Remains Elusive
Once on the Permit grounds we did spot a couple Permit finning on the rough surface, but we didn't get any clean shots at them due to the swirling winds and waves. After giving it our best for a couple hours Jose made the decision to head for the lagoons in search of Bonefish in calmer waters.
The lagoon he selected was very shallow as the tide was dropping fast in the large bay. That said, when we emerged from the mangroves there were Bonefish everywhere cursing along the flats in only inches of water. Andrew was up first and within a minute he was fighting the first fish of the trip. This Bonefish was an absolute beauty, in fact we had not landed any as large on our previous trip to Xcalak.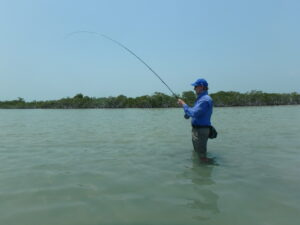 While I was watching Andrew fight his fish a school of bones appeared about seventy feet in front of me. I had no choice but to take a shot as the school got within casting range. Within seconds we were into a double header and we quickly remembered why we came back to Xcalak to experience this fishery again. My fish was nowhere near the size of Andrews, but it was still nice to have a bonefish on my LX 3.8 after waiting two years to make it back. A short battle ensued, and my fish came unbuttoned and my battle was over. This was probably for the best as it gave me a chance to snap a few shots of Andrew with his prized catch.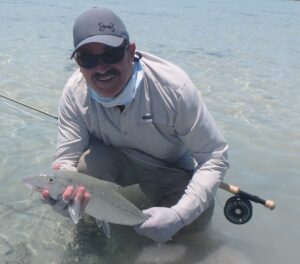 Once Andrew's twenty-inch Bonefish was photographed and released we moved back onto the flats in search of more cruising fish. It seemed like fish were everywhere, but it was difficult to get them to take due to the extremely low water conditions. We spent the next couple of hours in this lagoon hooking a half dozen more fish before it became time to take a break for lunch. I must admit Jose supplies us with the best homemade sandwiches I have ever eaten.
Whatever Happens Happens
After lunch, the wind had settled down a little so Jose polled us along the open shoals looking for bonefish, permit, or whatever species we could find that might take a fly. Only ten minutes had elapsed when we spotted a large Barracuda off in the distance. As we continued along, it got closer and closer as if it were asking us to go after it. I quickly set up a Barracuda rod putting on a steel leader and a large baitfish imitation. When the Barracuda was within casting distance, I dropped my fly in front of it and started stripping as fast I could. The large fish took chase and followed the fly all the way back to the boat. With only 10 feet of line left outside my tip it grabbed my fly but never got hooked. The large Barracuda felt the hook and left the area very quickly. Even though I didn't have the opportunity to fight or land this fish I still enjoyed the pursuit and the way it played out.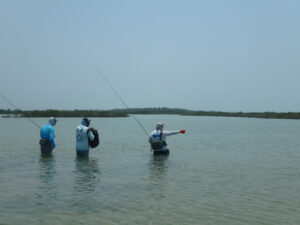 Throughout the first day we managed to hook a dozen Bonefish between us before it was time to head in. While having a pre-dinner drink with the boys we soon realized that everyone had a great day on the water hooking and landing several Bonefish each. Once again, no Permit were hooked but one of the guys in the group jumped a couple small Tarpon while being poled along the shoreline inside the reef. Day one was now behind us and considered a total success by all.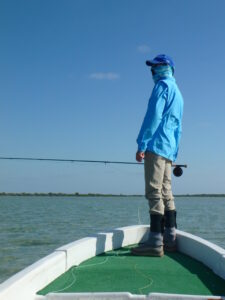 Boat or Wade?
Day two started off windy again but played out very similar to the first day. We fished a few different lagoons doing lots of walking and exploring. The guides usually give you the option of walking or be polled along the flats and they both have their advantages and disadvantages. When fishing from the boat, only one angler can fish at a time and one just sits there waiting for his turn. On top of that it can get extremely hot on the boat deck standing and waiting for the next fish to appear. On a positive note you don't need to be walking around on an uneven bottom in the searing heat.
When it comes to walking, you need to carry all your gear with you and carry drinking water as many times you are away from the boat for hours on end. The only thing I don't like about walking is the fact you can never stop and sit down. The mangroves are in the water and there is literally no dry land to rest on. Once you leave the boat you can be on your feet for a long time before you have any place to plant your butt for a brief rest. The best part about walking is you can both fish at the same time and double-headers are not all that uncommon as Bonefish tend to travel in large schools.
Seeing is Believing
The results over the next three days of fishing were very similar to the first couple days. The key to success was clear skies. As this primarily a sight fishery you need to see the fish before making a cast. When a cloud passes in front of the sun its lights out and fishing halts until its clear again. Many times, you are not spotting the fish but instead seeing its shadow on the sandy bottom. We tried for Permit for a brief period each day, but it just wasn't meant to be on this trip. When we did see several Permit, but the wind simply made it too difficult get in a clean shot on top of that the ones we did see were cruising by in a hurry and not looking for food.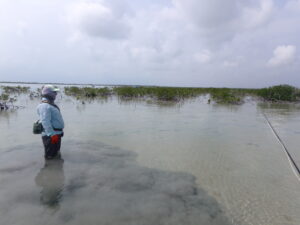 All eight guys got into numerous Bonefish and had a great time pursuing them. Some of our group were first timers and some were veterans to this unique type of fishing.
Mangrove Madness
On our last day Andrew and I tried something totally different for us in the world of targeting bonefish. We stood a few hundred yards from each other facing small openings in the mangroves. We patently waited for bonefish to swim across the open areas and then did our best to drop a fly in front of them. If the cast was not perfect the fly ended up in the mangroves. If the cast was good and the fish didn't spook you would be rewarded with a Bonefish racing through the Mangrove roots at an alarming rate. Needless to say once a fish was hooked all hell broke loose as we would have to take chase feeding our rods between the long roots that arch back into the water. It was a very exciting challenge but lots of fun once a fish was hooked. Andrew and I each hooked a half dozen fish this way and it is a type of fishing that I would definitely like to try again on a future trip.
Gear Up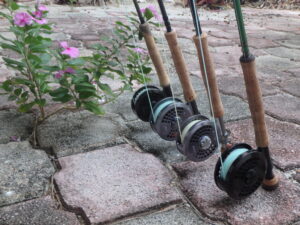 This type of fishing can be done by anyone as long as you have a fairly good cast. Having the ability to pick up a long line and shoot it fifty plus feet in one shot is crucial. There is often no time for false cast and if you are not fairly accurate with your cast you will spook Bonefish every time. As for gear, seven or eight weight rods and reels like the Islander LX 3.6 and 3.8 will work fine for Bonefish and Permit, but the fly lines are totally different. North American fly lines are designed for cold waters and do not work in the warm water environments. They literally turn to a piece of spaghetti in the warm water. As for leader anything from 8-15lb leader will work fine and steel leaders are required for Barracuda fishing. Flies are a whole new ball gave but we found the best success when using smaller sand colored Crazy Charlie patterns.
If you have ever considered pursuing Bonefish with a fly rod, I must tell you first-hand it is an experience that you will carry with you for the rest of your life. There is simply nothing more exciting than stocking fish in less than a foot of water with the bright sun overhead. When the perfect cast is made it results in a fish ripping line off your reel as a rate you must experience to believe.
–Tom Johannesen
An avid angler, seminar host, and writer, Tom Johannesen has had over 200 works published in a plethora of Outdoor Magazines. From his home base in Coquitlam, British Columbia Canada, he explores his home waters and beyond.