2020 marks 30 years since the first Islander left our production facility. Our first announcement to celebrate this milestone was the launch of our 9 foot Premier Series Rod. While Covid has interfered with our roll-out plans, we're now back on track. With that, we're excited to announce the release of our TR3 in our flagship gold colour for the first time ever. Given the anniversary and this announcement, we thought it would be a good time to reach back into the archives to share the origin story of how each of our three reel lines came to be. Enjoy!
—
The Birth of Islander
In its infancy, "Islander Reels" grew from the desire of a machinist to build and fish his own fishing reel. Pete Gustin, a recent arrival from eastern Canada, brought with him some design drawings he had been working on. In his spare time, Pete made parts for the reel and soon had one that he could actually take out and fish with. Pete had visions of making a few reels in his spare time and selling them to friends. At this point, Jack Foster became involved and started exploring the idea of making reels on a production basis.
The first Islander Reel was made in 1990 and was a centerpin float reel patterned after the ones used in the UK. The reel was designed with the west coast and its big water rivers and steelhead in mind and was named the "Pacific Steelheader".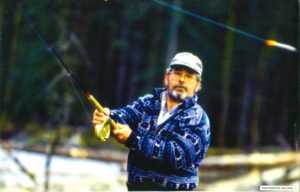 After the initial launch in a pewter colour, The Pacific Steelheader was developed a little further with the addition of black and gold anodized finishes
Later on, handle bases were upgraded to be able to utilize standard parts and a two-part machined foot was developed to replace the original cast foot.
Flying Off
After seeing the quality of our centerpin reels, some of our distribution partners at the time inquired about the possibility of producing a fly reel. Jack Foster, founder of Islander, took the project on and in 1991, the 8-weight FR2 fly reel was launched. It was the result of a co-operative effort between Islander staff, industry representatives, and fly fishers.
Over time, the line expanded to include FR1s through 6s covering 6 to 13 weight lines.
A New Market
Despite some reservations and skepticism from our industry partners Jack believed that demand for a premium, machined, "Made in Canada" reel, designed for the west coast salmon sport fishery was there. On this premise, Islander proceeded with the designing of a reel.
Loosely patterned after the English "Nottingham" style of reel, the MR2 was introduced at The Miami Sportsman's Expo in 1992 and was awarded Best New Saltwater Specialty Reel and Best New Product Of The Show.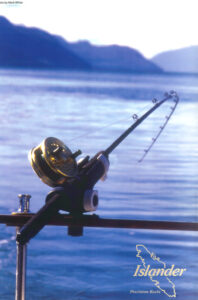 The most logical market to launch these reels was the lucrative "salmon capital of the world", Campbell River, British Columbia. The local Islander dealers took a couple of reels on spec and they lasted only until a local guide saw them. Tired of using inexpensive "disposable" reels the guide purchased two reels on the spot. All of a sudden, interest spiked and the dealers were looking for more reels to sell.
Islander Today
Since then, our three core product lines have flourished and allowed us to grow into the Islander Reels that you all know and love today. Numerous other Islander products have come and gone including the TS, LA, and AR series reels and we promise more new products will be coming down the pipeline soon.
One thing we cannot forget is how grateful we are to you—our fans—for supporting us over the last three decades. Many companies have come and gone since we started and yet with you our loyal customers we continue to move forward and innovate. We can't thank you enough and we look forward to sharing our latest developments with you in the coming months, years, and decades…
Cheers to our first—and next—30 years,
The Islander Team