Pursuing coho salmon in non-tidal waters will definitely put an angler's abilities to the test. On any given day, you can have anything from a spectacular outing to a day that you go through all your flies in efforts to get a single strike. The main reason for this is because coho stop feeding once they enter freshwater and tend to strike more based on aggression than hunger. What this means for us anglers is we need to use flies that trigger a strike based on factors other than hunger. For this reason, bright and flashy patterns usually give the best overall success in non-tidal waters. When you are on the fish and casting to showing fish, it is important to retrieve your fly at a brisk pace. When the fly is retrieved quickly it forces the coho must commit to it before it gets away. 
With the feeling of fall in the air it's time to start thinking about pursuing coho in non-tidal waters. As the evening temperatures start to drop and the fall rains start filling the creeks and rivers, coho and other salmon species head inland continuing their journey back to the place where it all began.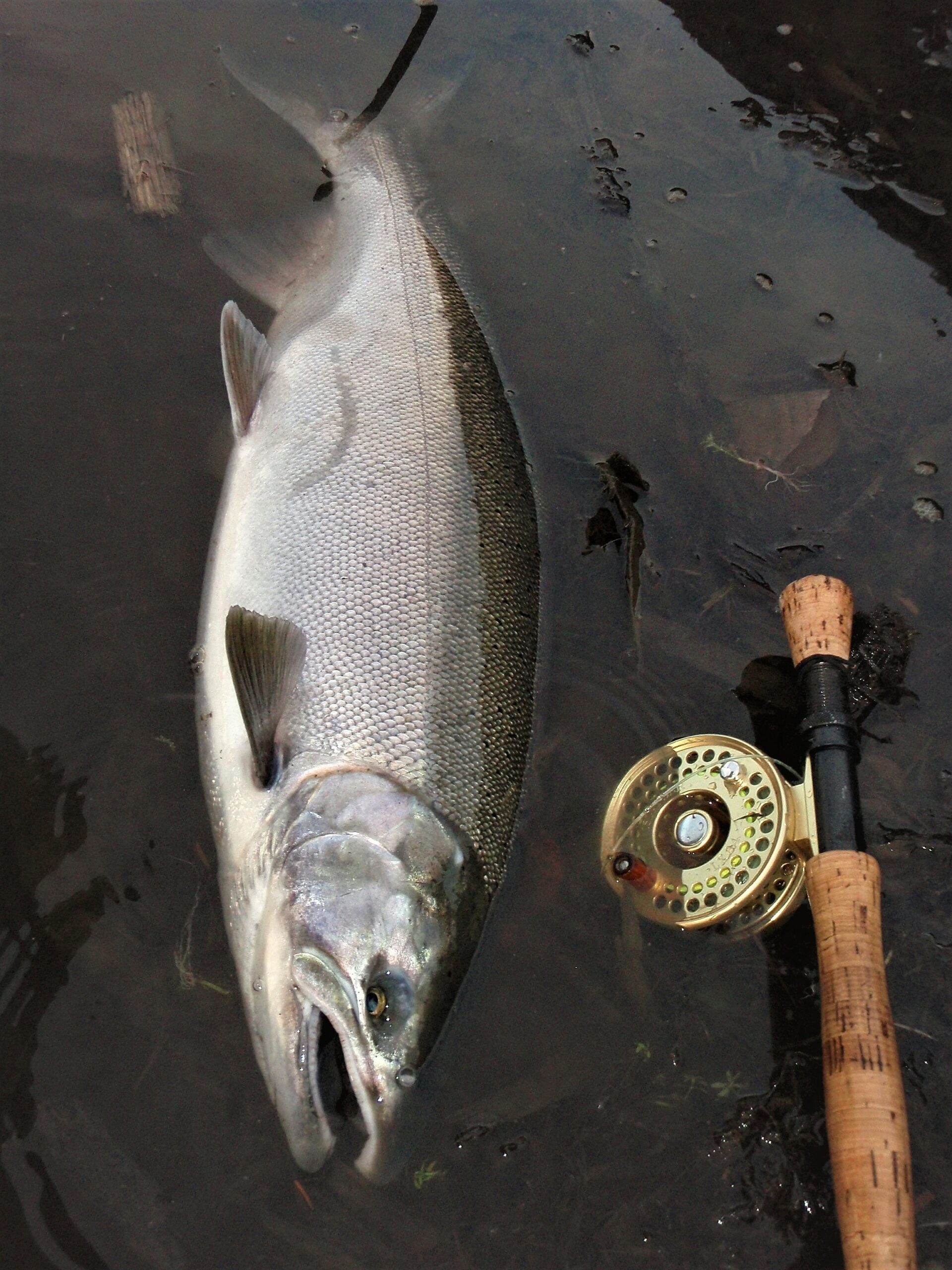 Timing for pursuing coho in non-tidal water
When it comes to pursuing Coho in freshwater, timing is quite important for success. The difference between a successful outing and a day without a strike can be determined by something as simple as a change in the weather. When searching for coho while water levels are low, look around any type of structure on the bottom or banks. Logs and fallen trees or rocks always make ideal areas to seek shelter. I also find that overcast days are more productive as the fish are not trying to hide from the bright sunlight. Over the years I have found early October is when the coho start showing up in the river systems in good numbers. The coho runs are usually spread out from late September all the way through until late November. This may sound a little odd to some but is not all that uncommon to find clean coho in the month of December is some river systems.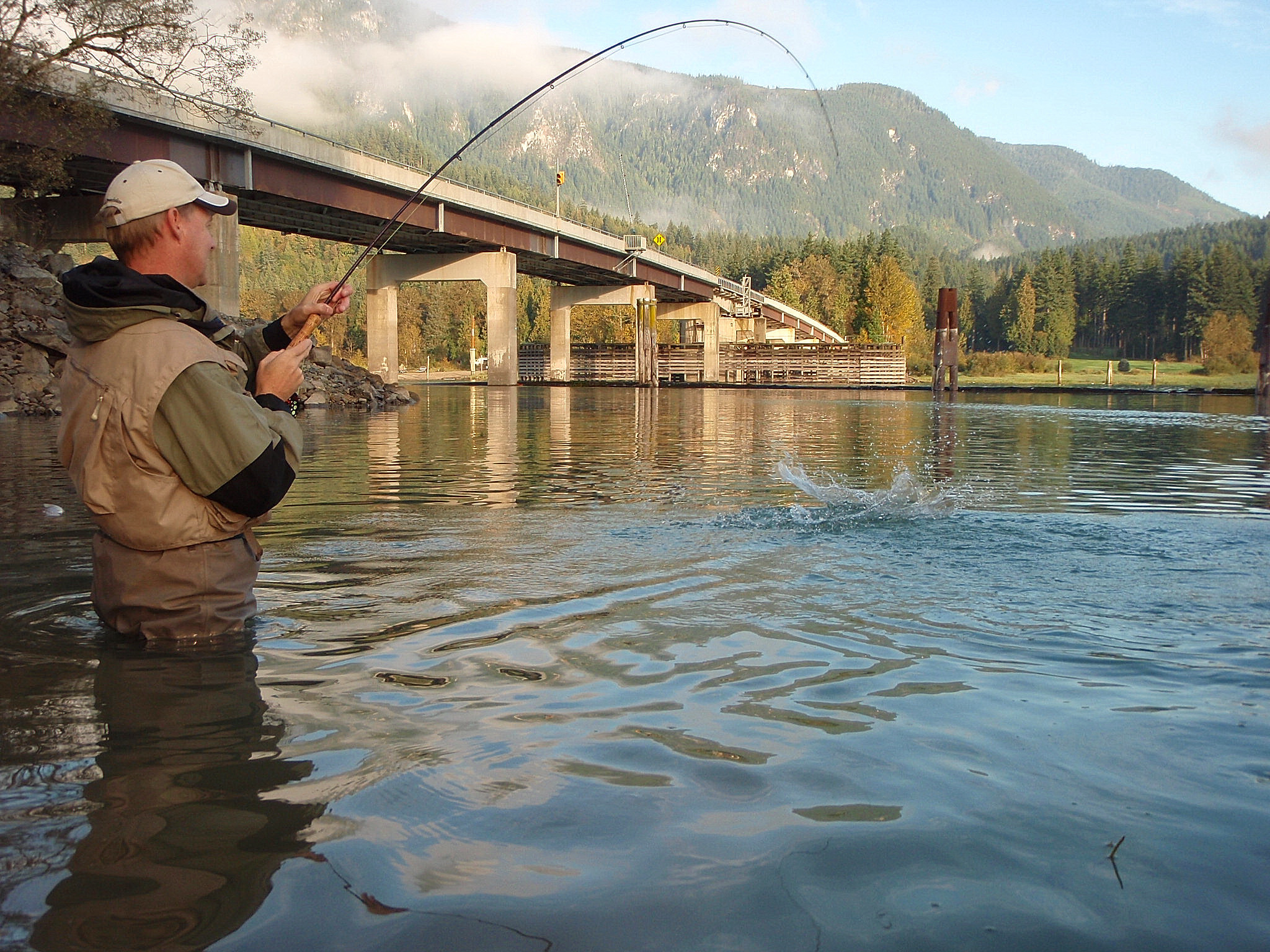 Locating coho in non-tidal waters 
There are so many places to find coho in freshwater that I don't even know where to start. For anglers of all skill levels, I always recommend spending time pursuing salmon on the Harrison River. This beautiful system receives large runs of all five species of salmon. The reason I like this river is the fact it is easily accessible and can withstand dozens of anglers on it at any given time without standing on top of each other. When the timing is right the fishing can be exceptional as all the Chehalis, and Weaver Creek fish must pass right outside Kilby Park and the Highway Bridge on the way back to their spawning grounds. Good fishing can be had on either side of the Highway Bridge and right outside the Sandpiper golf course. I find the best fishing occurs once the river starts to drop in the fall. As the Harrison River is shallow along the shoreline it is a great system to wade and cast for fly anglers. 
Other productive river systems to try include the Chehalis, the Stave, and the Vedder. These rivers all receive good coho returns and offer a variety of moving water to run your fly through. As a rule of thumb, fly anglers prefer slower-moving water as it gives them a better chance of covering the depths where coho hold.
For those willing to do a little exploring by boat the Fraser River also offers excellent fishing on many of its side channels and backwaters. The best results can be found at the tail end of islands or where the water flows slower. The best part about coho fishing is the fact they often show where they are. Always be visually scanning the surface for coho rising, jumping, or swirling, and cover them as soon as you see movement.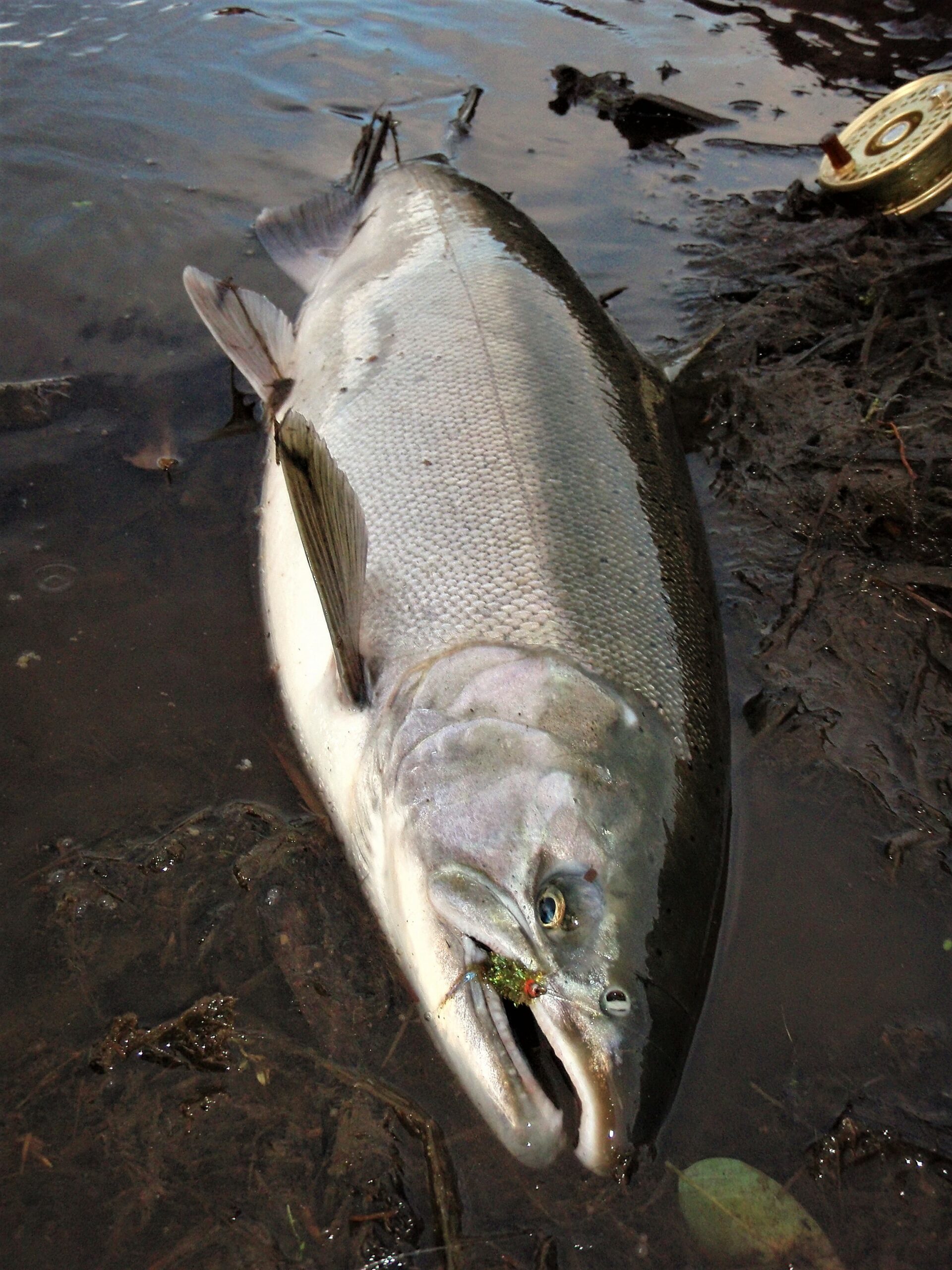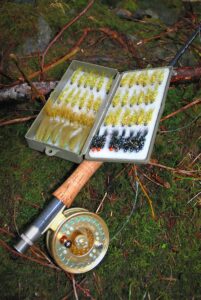 Fly gear for pursuing salmon in non-tidal waters
When it comes to fly selection for coho, the most commonly used patterns are variations of the muddler minnow and woolly bugger. By simply playing around with the size and colors of these two patterns, the possibilities are literally endless. Flies tied in sparkly green, tan, purple, and even black will often get the best results overall. Other colors will take fish under certain conditions but not with the same consistency as the flashy patterns. As for myself, I'm a firm believer that green is the best way to go. Some of my best success has come with the most basic green patterns. I find that coho are looking more for a specific size and profile rather than a fly that is overdressed. My favorite pattern is tied with medium olive-green sparkle chenille, a rabbit tail, and a few strands of crystal hair added to the tail for flash. I tie this on a #8 or #10 hook and add a bead to help get the fly down quicker. When using a beaded pattern always use a loop knot as it will allow the fly to move and wiggle more in the water.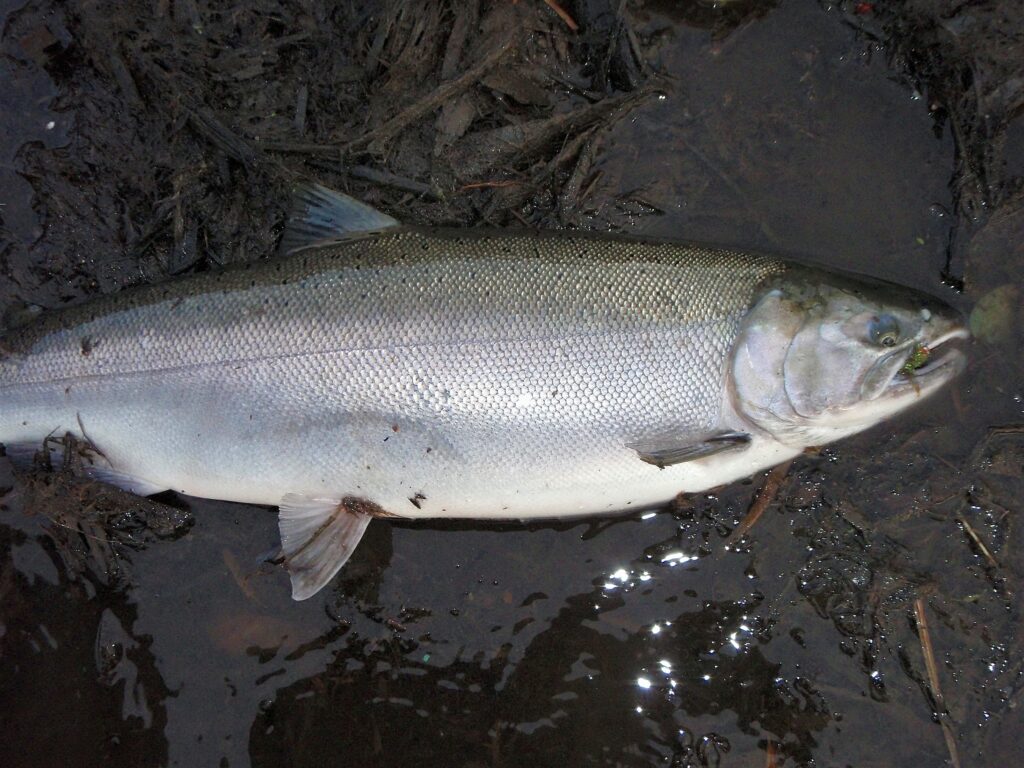 When it comes to fly gear selection it's not all that complicated. With the innovation of new fly lines, salmon fishing in freshwater has become a lot more productive than in the past. The clear fly lines on the market allow the fly to get down to the fish without spooking them. All clear fly lines are intermediate sinking, which is ideal for fishing in depths from four to eight feet deep. When fishing, moving water sink-tip lines work well as they allow the angler to control the floating portion of the line while the tip portion gets down to the fish. I find a ten-foot tip is ideal for most of our river systems.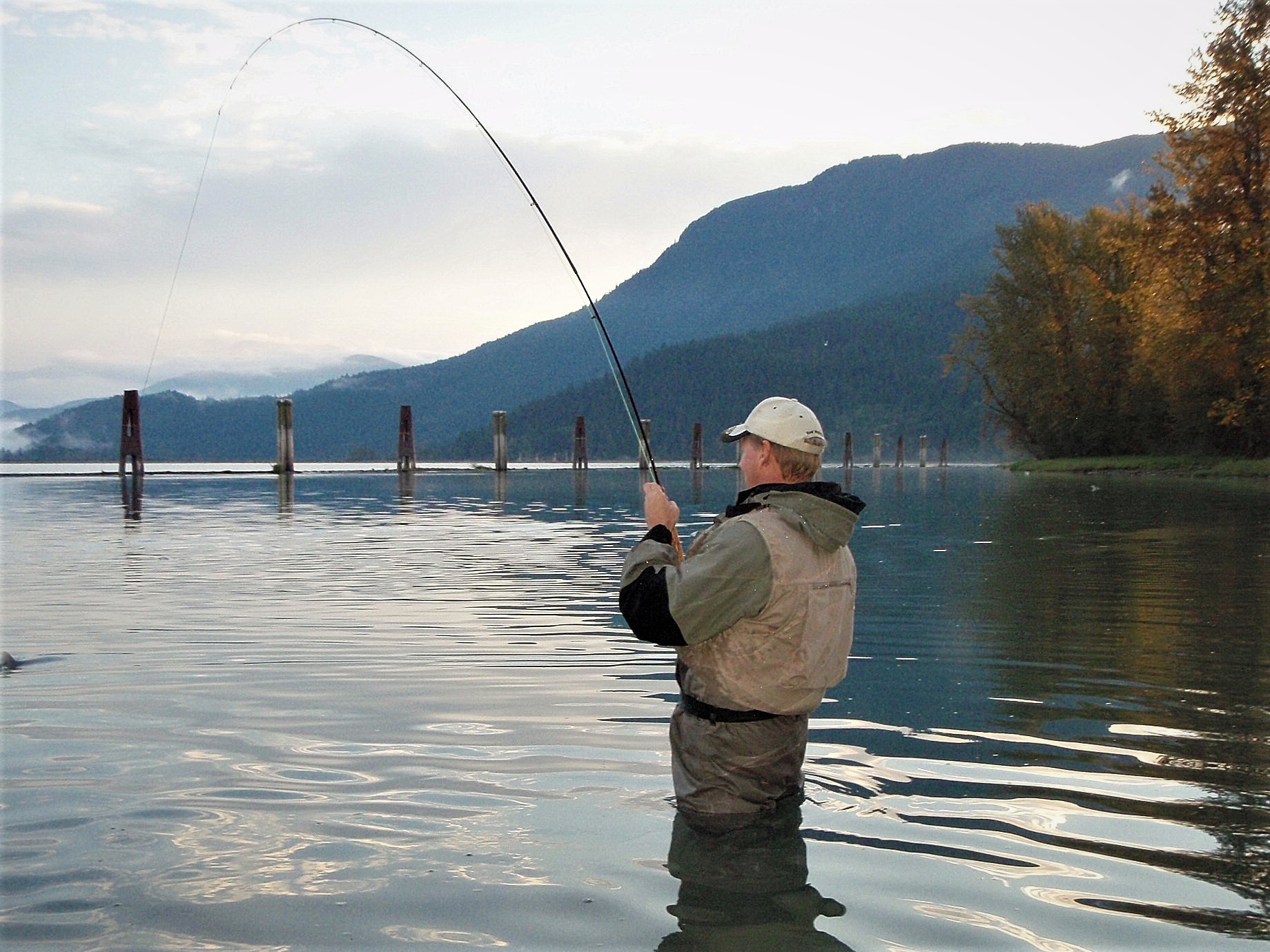 Fly rods from six to eight weight can be used efficiently when pursuing coho in freshwater. I prefer using a seven-weight outfit as it allows me to land larger fish yet it's still exciting on smaller coho, and even coho jacks. When it comes to reels, I use an Islander LX3.6 when fishing with a 7wt and a LX 3.8 when using an 8wt rod. These reels are large arbor which allows the angler to keep up with the fish when they go crazy and run at you. I also find they have a great drag system from when you need to slow a larger coho down. 
Leaders are always important but the coho don't tend to be overly shy when pursued in sloughs and river systems. When using a clear intermediate fly line, leader length is not as important as when using a dark sink-tip line. I find a seven to nine foot eight-pound tippet leader will get the job done efficiently.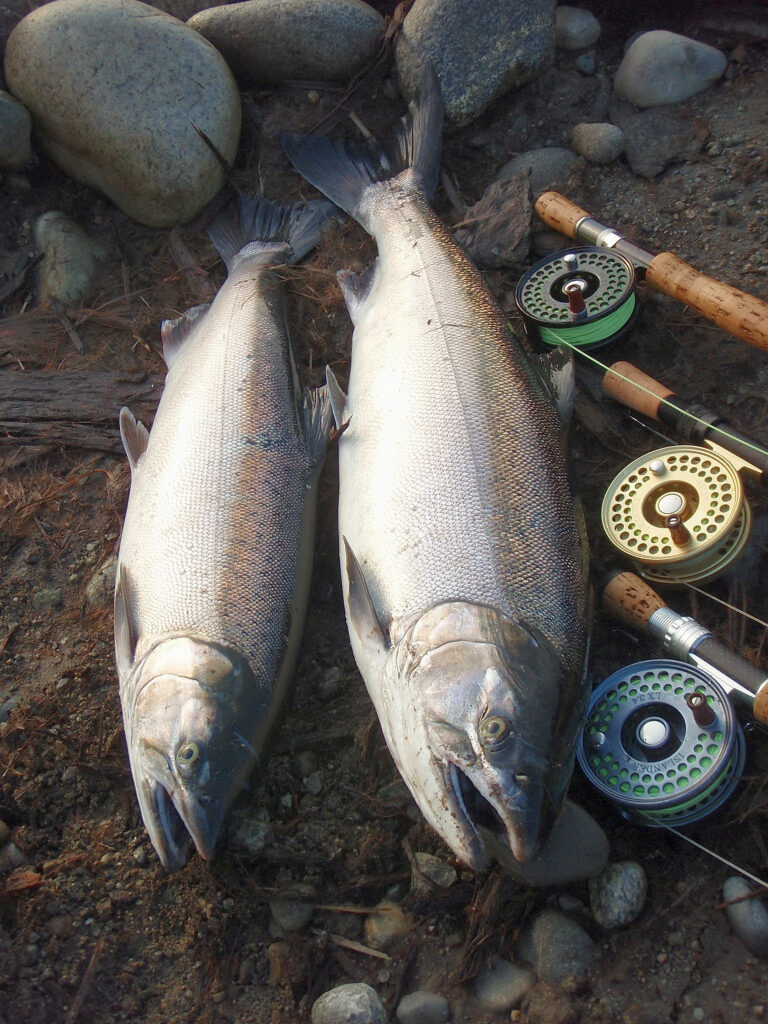 The most exciting part of pursuing coho in fresh water is the hunt. Walking along the banks of sloughs and backwaters in the fall looking for surface movement is exciting for anglers of all levels. Be sure to check regulations as they change from year to year. Some river systems allow a couple fish to be kept, while others are strictly catch and release. All systems require the use of a single barbless hook. When you feel the evening temperatures start to drop, dust off your 8wt rods and head out to our Fraser Valley in search of dime bright coho I'm sure you won't be disappointed.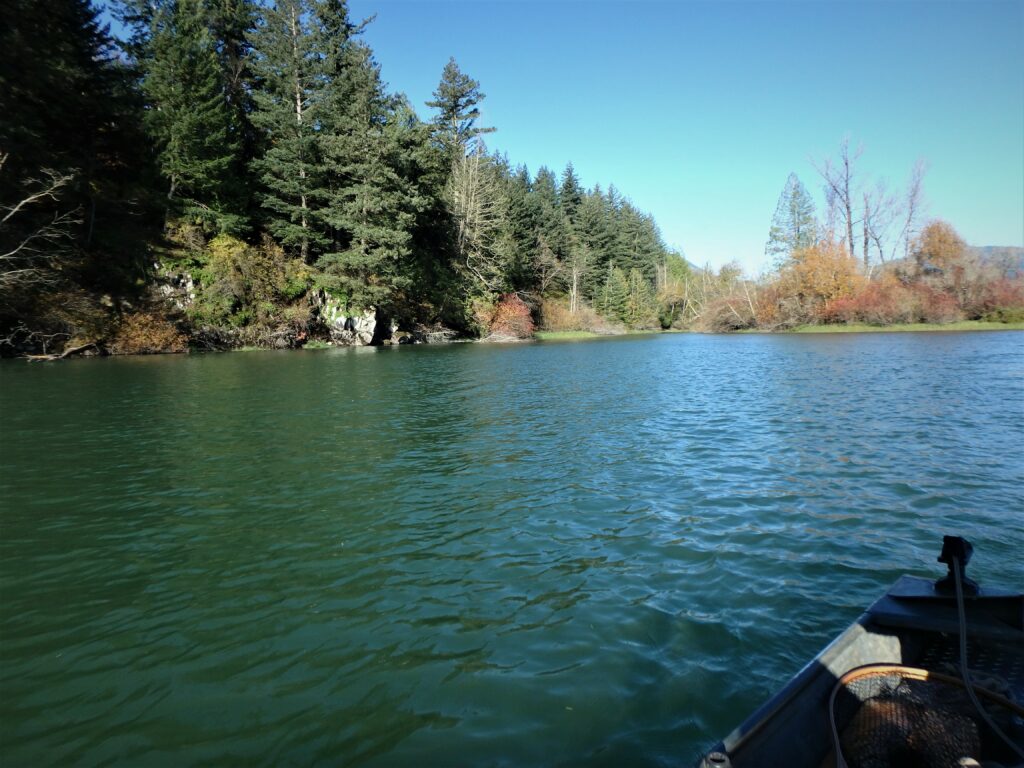 Tom Johannesen
Tom Johannesen grew up fishing but at the age of 23 he had his first article published in a British Columbia Federation of Fly Fishers (BCFFF) newsletter and something changed.
Since that first article, Tom has been on a mission to master his craft and to share what he has learned with others. With over 200 articles published in magazines like BC Sport Fishing, BC Outdoors, Outdoor Edge, Canadian Fly Fisher, Home Waters, Reel Angler, Western Angler and Island Fisherman, it's clear that it's a mission he takes seriously. He also regularly hosts seminars and tutorials at fly clubs and shops in the hopes of lighting that spark in the next generation.