During this winter season, many fly anglers—or those aspiring to become fly anglers—satisfy the urge to get out on the water by dreaming of new equipment to help up their game once things thaw out. In this blog, Field Team member Tom Johannesen breaks down each element with the goal of helping you select the right fly fishing equipment—especially for stillwater. Whether you're an experienced angler brushing up on your knowledge or a newcomer looking for tips, this blog will put you on the right track.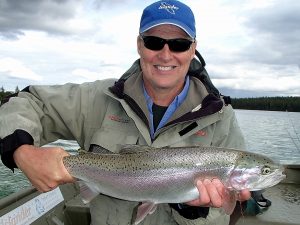 Choosing the Right Fly Fishing Equipment
There are three main components that make up the perfect fly-fishing outfit. They are a rod, reel and fly line. All three components play a significant role in assembling the perfect outfit but the fly line is definitely the most important part as it delivers your leader and flies to the fish. Of course, it doesn't matter what gear you use, without a good clean cast your offerings are somewhat insignificant as the fish will be spooked.
Rods
The rods themselves are also important but keep in mind a good fly caster can lay out a nice cast with nearly any brand of rod at any price level. The most common rods being used today are 4 piece nine foot rods. There are longer rods available but it doesn't necessarily mean they will cast further. A nine-foot rod is a great overall length.
Reels
As for the reel, many feel they merely hold the line and look nice doing it but when it comes to the pursuit of larger fish, performance matters. Higher end reels—like those from Islander—will last a lifetime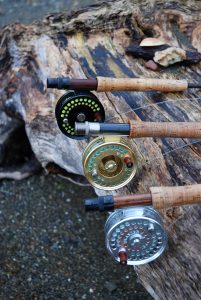 versus the cheaper reels that are prone to breaking down. Also very important for larger fish is good drag as it gives the angler the ability to slow down and control the fish. When purchasing reel to be used around saltwater I highly recommend getting one that is anodized as all other reels will break down from the salt over time.
Lines
Fly-lines can be broken into three categories that will help make them easier to understand. These categories are as follows:
Sinking lines (wet lines) are designed to get the fly to the fish when they are feeding below the surface at depths in excess of forty feet. These lines are always dark in color so they don't spook the fish as they pass through the water column.
The unique characteristics of sinking lines are the sink rates. The sink rates vary from intermediate (slow sinking) to a type 7 which is an extreme fast sinking line. To make it easy to understand, the type number is the sink rate, a type 3 sinks at three inches per second and a type 6 at six inches per second and so on. An intermediate line is clear and sinks at less than an inch per second. My personal go to line in the interior is a type 6.
Floating lines (dry lines) are designed to float high on the surface allowing you to use dry flies or weighted patterns. These lines are bright in color so the angler can see them on the surface when fishing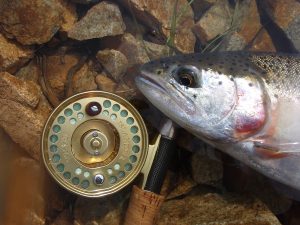 during a hatch or on windy days when the surface is broken.
Floating lines come in a variety of configurations to help the caster achieve his or her goals on a specific outing. Common lines are called weight forward (WF) and double taper (DT). The weight forward lines are designed for distance casting and the double taper lines are designed for accurate casting.
Sink-tip lines are primarily designed for use in moving water as the main body (floating portion) of the line can be mended in moving water while the tip (sinking portion) gets the fly down to the fish.
The sinking part of the line comes in a variety of sink rates based on the same principal as the full sinking lines. As a rule of thumb the darker the tip the faster it sinks. On top of that the sink-tip portion can vary in lengths from as short as five feet to as long as thirty. The sink-tip lines with longer tips can also be used in lakes for trolling or fishing along the edges of shoals.
Sink-tip lines always consist of two colors. The floating portion is bright in color and the sinking portion dark again same as the regular lines.
The Right Combination
The key to the rod, reel and line combo is balancing them by weight. This means the numbers on these components should all be the same. Let's not confuse weights with rates; the weight of the line is based on the diameter of the line itself and the rate is how fast it actually sinks. This is why there are no sink rates on floating lines.
A good example would be an interior British Columbia lake combo where the preferred weight for the majority of stillwater anglers would be a 6 weight outfit as they are easy to cast and can land fish in excess of six pounds.
As for fly-line brands; Cortland, Rio and Scientific Angler all make excellent lines to cover all facets of fishing. If it seems a little overwhelming trying to understand all the different lines on the market, check out their websites they all have a great breakdown with your options.
Recommended fly gear weights
2-3 weight fly gear is suitable for fish from 1 to 2 pounds
4-5 weight fly gear is suitable for fish from 2 to 4 pounds
6 weight fly gear is suitable for fish from 2 to 6 pounds
7-8 weight fly gear is suitable for fish from 4 to 12 pounds
9-10 weight fly gear is suitable for anything that swims
Leaders
Last subject to touch on are leaders. Leader lengths can vary depending on the type of fishing you are doing. In a nutshell a good overall length is from seven to nine feet for a sinking line and eight to twelve for a floating line.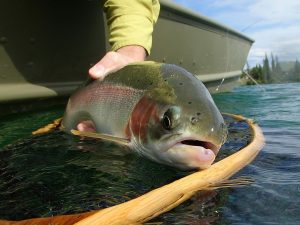 The exception is when using a sink-tip line in moving water. When using a sink-tip line in a lake the rules above still apply but in moving water the leader must be substantially shorter so the fly can follow the tip to the bottom.
When fishing in a river I use from two to five feet of leader. Many anglers new to fly-fishing buy prepackaged tapered leaders and veterans tend to build their own using bulk rolls of line. Either way will get the job done at the end of the day.
Building your own leaders will give you more options on lengths and diameters and tends to be less expensive. When I build my own tapered leaders I use three pieces of Maxima Ultra Green or equivalent tied together with the use of a Blood Knot.
When fishing for fish from one to four pounds I use three feet of eight lb, three feet of six pound and three of four pound line tied together. When targeting larger fish, I use three feet of ten lb, three feet of eight pound and three feet of six pound which is strong enough to land trout to ten pounds.
Flies
Now that we know all about the gear and how to make up the perfect combo, it's time to learn a little about flies and how to tie them to the leader.
When it comes to flies, well where do we start and where do we finish. There are flies designed to catch nearly every species of fish on the planet. The key to a productive fly is to accomplish one of two things. We must either convince the fish the fly is food or persuade them into taking it out of anger.
I personally prefer the first as the challenge for me is to try and mimic a real food source to the best of my ability. When all else falls we can resort to attractor patterns. When building a fly collection I always recommend utilizing the knowledge of your local fly shop as they will gladly share information on the most productive flies for any season.
Must have trout flies
The five most useful knots for fly-fishermen
Arbor Knot (for tying back to your reel)
Nail Knot (for tying backing to fly line)
Blood Knot (for joining two pieces of line together)
Improved ClinchKnot (for tying fly to leader)
Loop Knot (for tying on weighted flies to leader)