If you've fished on the west coast long enough, it's almost inevitable that you'll lose a rod overboard… Whether it's a beginner, a lost grip, or a little too low an angle on your rod holders on that tight turn, it happens.
On the other hand, every so often lady luck shines her face on a fortunate BC angler and returns the favour. Check out the story below from Islander Fan Ron Newland.
Firstly, I would like to thank you your outstanding reels. I have a friend with two boats in Masset and guide for him annually with my MR3 reels. They take some serious abuse on the water and just keep on ticking, unlike other products I've tried.
Last week I had the opportunity to join a buddy for a trip to Tahsis and jumped at the chance to fish Esperanza and Nootka. We were rolling anchovies around Rosa island when I noticed the rod tip respond to a light hit. After waiting a bit I rolled up to do a bait check when I noticed I'd hooked up to some of that suffix elite hi-vis line.
With the rod back in the rod holder I hand pulled the line up hoping maybe to score a flasher and some terminal gear.
You can only imagine our surprise when a Lamiglass rod mounted with an MR3 reel came to the surface. Both were covered with barnacles, the cork was starting to rot and I really didn't expect much from the reel in the condition they were in.
We cleaned the barnacles from the eyelets of the rod and I played with the drag briefly and much to my surprise it was completely functional as was the anti reverse…the only thing that was marginally seized was the handles themselves, THE DAMN THING SPOOLED AS GOOD AS THE 2 MR3'S ON THE BOAT… UNBEILEIVABLE BUT TRUE!!!!
We thought it only fitting to rig it up and send down another back line. Wish I could tell you that it successfully brought in a tyee but not the case…springs where a little slow.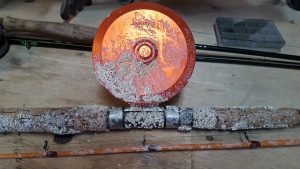 The story sure stirred some conversation on the dock as word spread so I thought you might want to share it with others.
So if you're ever unfortunate enough to lose an Islander overboard, keep Ron's story in mind…All may not be lost.
Thanks for sharing Ron!