Laminates are created by infusing wood veneers with resin and compressing them together under intense pressure. Dyes are added in the process to create the unique patterns.
Note for Older MR2 and ARMR2 Series Reel Users
Laminate handles will fit directly on MR3 & MR2-LA sized reels and newer MR2 & ARMR2 reels (if they have Large sized handles).
Signs that you have Large handles (no handle base upgrade required)
-The handles are notched at the bottom and the bases flow smoothly into the shape of the handle.
-The handles are just as wide as the handle bases.
Handle diameter: 5/8 inch
Older MR2 and ARMR2 reels with Medium sized handles will require an additional handle base upgrade.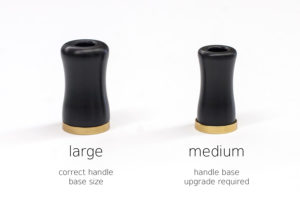 Signs that you have Medium handles (and require a handle base upgrade)
-The handles sit inset from the edge of the current handle bases.
-The handle bases are wider than the handles.
Handle diameter: 1/2 inch
Base diameter: 0.55 inch