Words and imagery provided by Field Team Member Tom Johannesen
From Chrome to Silver
On many fishing trips our original plans change for a multitude of reasons including weather and water conditions.I had my plans change for the better when I last fished the legendary Dean River in late August.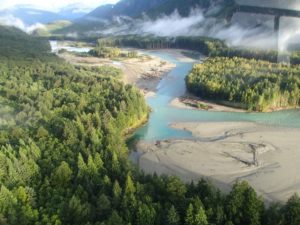 I was there with three friends to target summer-run steelhead when we soon realized that the steelhead numbers were dismal at best that year. We had fished for four days landing only three steelhead between the four of us. With steelhead being far and few between I was overly thrilled when I landed a real nice Coho about a mile down river from our camp one afternoon.
On day five while heading back to camp for lunch, Henry and I noticed a good sized ring in the middle of a backwater pond just off the main flow of the river. I knew right away that it would not be a steelhead as they really don't like frog water and this pond had very little flow to it. Nevertheless, we made a few casts in efforts to see if it was one of the five species of salmon that inhabit the river this time of year.
After making a dozen casts each to no avail we figured it was time to continue on our quest for lunch. While quickly reeling my line in it tightened just twenty feet from the beach. I set the hook and before I knew it a 10-pound dime bright Coho took to the air. After a ten-minute battle I brought the fish to hand where we took a couple pictures before releasing her back to the Dean River.
Have a Plan B
When we left camp that morning, we had not planned on targeting salmon but it sure turned out to be a pleasant surprise on an other wise non-productive day on the water. Now that we knew there were Coho in the backwater, we decided to spend a little time working over the large pond to see if there were any more fish waiting to take our flies. Within the next two hours we hooked six more Coho between us using a variety of brightly colored steelhead patterns as we had no Coho flies with us.
The next morning we headed out to target steelhead at first light knowing that we now had another fishery to fall back on if we couldn't find any steelhead. By noon we had thoroughly worked over several runs not touching a single fish along the way. Before we knew it we back at the backwater from the previous day.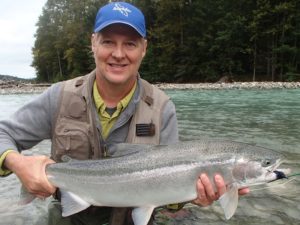 With one run to go Henry fished through first in hopes of finding a steelhead willing to accept his offerings. Well it seemed like there were no steelhead there to entice. For that reason, I quickly fished through the last run as I could see the Coho backwater off in the distance and I knew there would be Coho waiting for us there. As my fly swept across the tail-out of the run my line stopped in the midst of the swing. I set the hook figuring it was probably the bottom but was quickly surprised when a large bright steelhead took to the air. After an excellent fight a few pictures were taken and the beautiful doe was released back to her familiar surroundings.
We walked back to the head of that run and fished it through again hoping that it might hold another fish but it was not meant to be. That said, I was ecstatic that I had a summer-run to hand that day. After a brief break it was time to concentrate our efforts on salmon fishing once again.
The first thing we noticed was the backwater was no longer stagnant as we received a substantial rainfall overnight. The pond now had a slight flow and the water clarity had become a little colored from a creek flowing into it from the mountains. With the change in water conditions we started out with larger flies than the previous day.
Only a few casts in my line tightened and a huge sixteen-pound chrome bright Northern Coho took to the air. I know it wasn't a steelhead, but you couldn't peel the grin off my face as my line cut through the waters surface. The large Coho gave my 8-weight rod and Islander LX 3.8 reel a good work out before surrendering for a photo.
Plans C and D are Pretty Good Too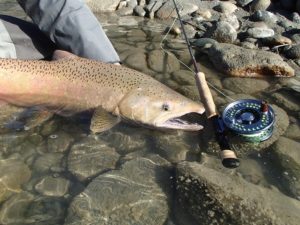 Once released I sat on the bank for a brief rest while watching Henry try to get into a fish. He had only fished for about fifteen minutes we he hooked into something rather large. I figured he too hooked a large Coho but he fought it for another ten minutes before we even caught sight of the fish. When it came close enough for us to see we noticed it was in fact a large slightly colored Chinook. This backwater turned out to be the gift that kept on giving.
After a few pics and a quick release I grabbed my rod and ran for the water. It wasn't long before I was into another fish. This too was a Chinook but a lot smaller than the one Henry just landed. Throughout the day we hooked several more nice Coho and a couple Pink salmon. Towards the end of the day I kept a Coho which we had for dinner and breakfast the following day.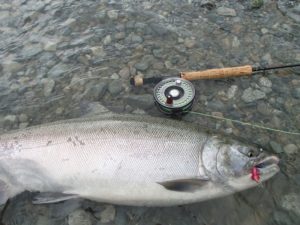 Good Things Come to Those Who Persevere
The next day arrived to overcast skies and a higher murkier river. I was hoping the backwater was not going to be affected by the higher water but it too lost its visibility and the flow made it difficult to get the flies down to the fish. We fished through the backwater for a couple hours with no strikes. We then worked over the main river and managed to hook a couple steelhead which incidentally came unbuttoned before landing.
After lunch the boys decided to have a nap while I walked back to see if the backwater had dropped. It had come down a little and cleared up to a three-foot visibility. I tied on a large bright pink pattern and made a few casts. Out of nowhere I hooked a real strong fish. I fought it for a good fifteen minutes before it got close enough to tail. Wow it was a Coho that would weigh in at around twenty pounds! What a monster, and no one there to take a grip and grim shot for me. I laid the beauty on her side a quickly snapped a shot before releasing her. I'll be honest I was shaking like a leaf. This was the largest Coho I had ever caught on a cast fly.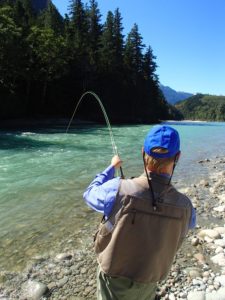 Over the next two hours I hooked six more good sized Coho but nothing near the size of the first one. When I got back to camp the boys were sitting around the fire relaxing. When they asked how the fishing was, I just smiled like a little kid.
The Icing on the Cake
On the last day, we packed up the camp under overcast skies while waiting for the helicopter to arrive. I put all my gear away, but Rudy left one rod out just encase there was time to make a couple last casts. With an hour left before our pickup time he walked down to the closest run for a couple last casts. From camp a few hundred yards away Ken and I noticed Rudy's rod bent over and him looking in our direction. I grabbed my camera and ran for the river.
When I got to him, he had still not seen the fish. Five more minutes and we finally caught a glimpse of Rudy's prized catch. It wasn't a steelhead but instead a nice Chinook Salmon. I'm sure he was hoping it was a Steelhead but with the clock ticking down anything pulling on the end of the line is a good thing.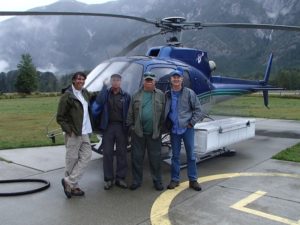 This entire experience will go down as one of my most memorable fishing trips in my lifetime. We started out targeting Steelhead but with a lack of them in the river the fresh Coho saved the trip. We returned to the Dean River a year later and the beautiful Coho backwater had filled in with gravel during spring freshet. It went from a fifteen-foot-deep slow flowing hole to a shallow gravel bar in just one short year. That said no one can ever take the wonderful memories away from us.
–Tom Johannesen
An avid angler, seminar host, and writer, Tom Johanesen has had over 200 works published in a plethora of Outdoor Magazines. From his home base in Coquitlam, British Columbia Canada, he explores his home waters and beyond.