For many of our followers—especially those chasing salmon on the saltchuck—the fishing experience doesn't stop on the water. Enjoying fresh caught wild salmon is an integral part of your fishing world. We often talk about upping our on-water game, but we thought maybe it was time to up our game in the kitchen too.
With that in mind, Islander's Steve Rennalls reached out to The West Coast Fishing Club and their executive chef Rob Ratcliffe. Rob was gracious enough to provide us with this incredible salmon risotto recipe for you to try, along with an interview in which he gives tips on improving your fish cooking skills with a cake tester, how a Quiche Lorraine can lead to a job at the West Coast Fishing Club, and why serving guests in their bathrobes is an important part of The Club experience.
Bon appétit!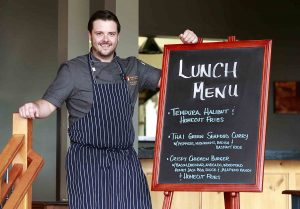 SR: How did you get your introduction into the culinary world?
RR: Well I'm from England and back when I was in high school, I didn't do very well in food tech because I had an awful memory. I was supposed to bring all the ingredients and I'd always forget them at home. That left me stuck with whatever staples were in the school kitchen. While the other kids were baking cakes and pies and all sorts of other fun things, I was stuck doing a Quiche Lorraine.
After about the 8th time, my teacher told me that was the best quiche lorraine she'd ever had. That got me thinking: "maybe there's something more to this." Shortly after I started working in my neighbourhood pub and I haven't looked back since.
SR: From many perspectives, England is a long way from the Pacific NW with its salmon fishing culture, and its cuisine. How did you find your way to Haida Gwaii?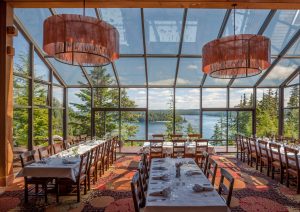 RR: After working in London for a while, I had the opportunity to work at Hawksworth Restaurant in Vancouver (5-time winner of Best Upscale Restaurant in Vancouver Magazine's Restaurant Awards). I started as the Garde Manger and worked my way up to Senior Sous Chef over 5 years. At that point, I had kind of reached the ceiling in that kitchen and it got to thinking about other options.
The owner and Executive Chef David Hawksworth was often a guest chef at The Clubhouse so I knew a little about the fishing lodge world. I thought that might be a way to take a step forward in my career while also giving me some life flexibility in the off-season. After a fortunate series of events, the Executive Chef position was offered to me and I took it!
SR: Have you had a chance to do much fishing yourself?
RR: A little. Last summer I caught an 11lb spring, and a 12lb coho on an MR2 and I was pretty happy with that. The guides were really good about showing a newbie the ropes. It was nice to be at the bottom and to have the opportunity to learn from the experts in a new field.
For me, the hardest thing about being at the top in the kitchen, is that I have to go out of my way to learn new techniques and recipes. While I do learn a lot from my team here, it takes a lot of independent research to really broaden my horizons. In the boat I'm at the mercy of the guide and I enjoy that.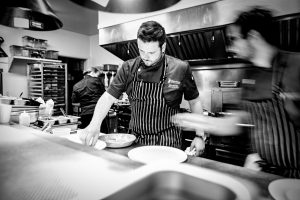 SR: How does cooking at a resort in Haida Gwaii differ from a restaurant in London or Vancouver?
RR: The biggest difference is that in a restaurant, guests come, they enjoy the experience, then they leave while at The Clubhouse you are creating a home for people. No matter how hard a restaurant tries to make the place welcoming and casual, they always have this persona of "you're welcome for coming and eating our food." There's all the courses and the cutlery and the wine pairings and to top it all off you're only there for 2 hours or so. That can make it very intimidating for guests.
On the other hand—at The Clubhouse—the fine dining experience comes with the comfort you might find in a home…I'm often chatting with guests who show up at 5 a.m. for breakfast in their robes! There's an intimacy to our dining—no, the whole Club experience—that can't be found in a place where you show up for one meal then leave.
SR: How would you describe your personal style or philosophy towards cooking?
RR: The main thing I'm trying to achieve is for things to taste delicious. I'm not trying to "wow" people just for the sake of wowing them. What I mean is that if the best way to cook something takes 30 minutes, I'm not going to spend two days adding a mousse just for the sake of adding a mousse. Then again, if it takes four days to make one of my dishes the best way possible, we will take those four days and it will taste the best it possibly can.
For example, a roast beef dinner with big hunks of beef, Yorkshire pudding, and gravy is pretty simple, tastes delicious and guests LOVE it… Why mess with that just to try and be fancy?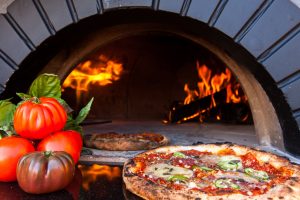 SR: I imagine being a chef is a little bit like an artist: there are lots of media to work with. While the artist has painting, sculpture or mosaic, the chef has frying, baking, and grilling. How do you approach a new medium like the Italian engineered Mugnaini wood-burning oven The Club just had installed on the deck?
RR: In this case I started with the foundation—the dough. I learned how it has to feel in my hands, how to shape it, and press it. From there, the rest are just building blocks. The toppings, sauces, crust thickness, I play with all of them to create The Club Pizza. It's still—and probably always will be—an evolving "piece" but it starts with the right foundation.
The oven is also a bit of a toy…like what else can we get in there? Cinnamon buns, fresh veggies, whole fish… You can really do a lot in there. At first, I thought it was just another hot oven, but at 700 degrees, you get this weird and delicious sort of char that you can't get anywhere else.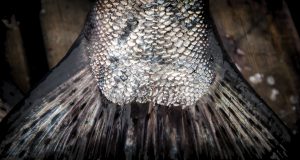 SR: Part of the West Coast Fishing Club experience is a level of cuisine that they'd be hard pressed to duplicate. That said, you've got most guests flying home with coolers of the finest wild fish you can find. We've included one salmon risotto recipe here, but what would you say to a guest—or reader—looking to make the most of their catch?
RR: I'm always getting small questions like "how do I pan sear my halibut" or whatever so that's a tough one. I think there are a few important things to consider about cooking fish. For starters, compared to many dishes fish is pretty simple, but you have to know a few basics. For example, you can't be impatient—let your pan heat up all the way before putting fish in. There's also nothing wrong with a bit of colour in your salmon's skin, it can be a little crispy. Similarly, don't be afraid to have a golden crust on your pan seared halibut. Just make sure that pan gets hot!
Another small thing that people miss is the importance of patting down and drying out the surface. We pat down the presentation side of fish then leave it facing up to air dry for 8-12 hours in the fridge. If you're at home, pull it out the night before to thaw, pat it dry in the morning, then let it air dry uncovered for the day in the fridge.
Oh, and when frying… One tablespoon of oil doesn't cut it… Be generous!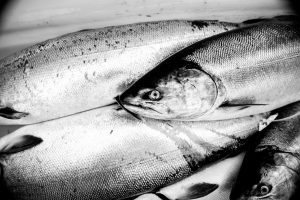 SR: If you could offer one tip to the average fisherman trying to elevate their fish-cooking skills, what would it be?
RR: Get a cake tester! It's the easiest way to test doneness. As you put it in, if you can feel each section of sinew, it's undercooked. If it goes in and out easily with no resistance, it's overcooked. You want it to go in smooth without feeling each sinew and have just a bit of resistance coming out. That's how you know it's done.
SR: Care to share any surprises you might have up your sleeve for your guests this summer?
RR: Well I'm pretty excited about the Mugnaini pizza oven. As I develop new recipes, guests can expect a number of new taste experiences with pizzas and more. We have other surprises up our sleeves too but I don't want to ruin the fun…Your readers will just have to come up here for themselves to experience it!
Photography courtesy of The West Coast Fishing Club, Jessica Haydahl Photography, and Rob Massie