May Have Been Wrong All Along…
When my fifth good sized Sea-run cutthroat came to hand in just one over an
hour, my fishing buddy finally put his ego aside for just long enough to ask me what the heck I was using. As my productive little fly pattern didn't have a name, I simply replied a #8 green streamer pattern. To my amazement he changed flies and hooked a cutthroat within three casts. The reason I found this amazing is he didn't actually see what I had tied on my line, so he had no idea what he was copying. As it turned out, on that day it wasn't as much the pattern as it was the color itself. This outing was a bit of an eye-opener on the importance of color when tying flies. In the past I assumed it was more about the size, shape, and profile then the color itself, but it looks like I may have been wrong all along.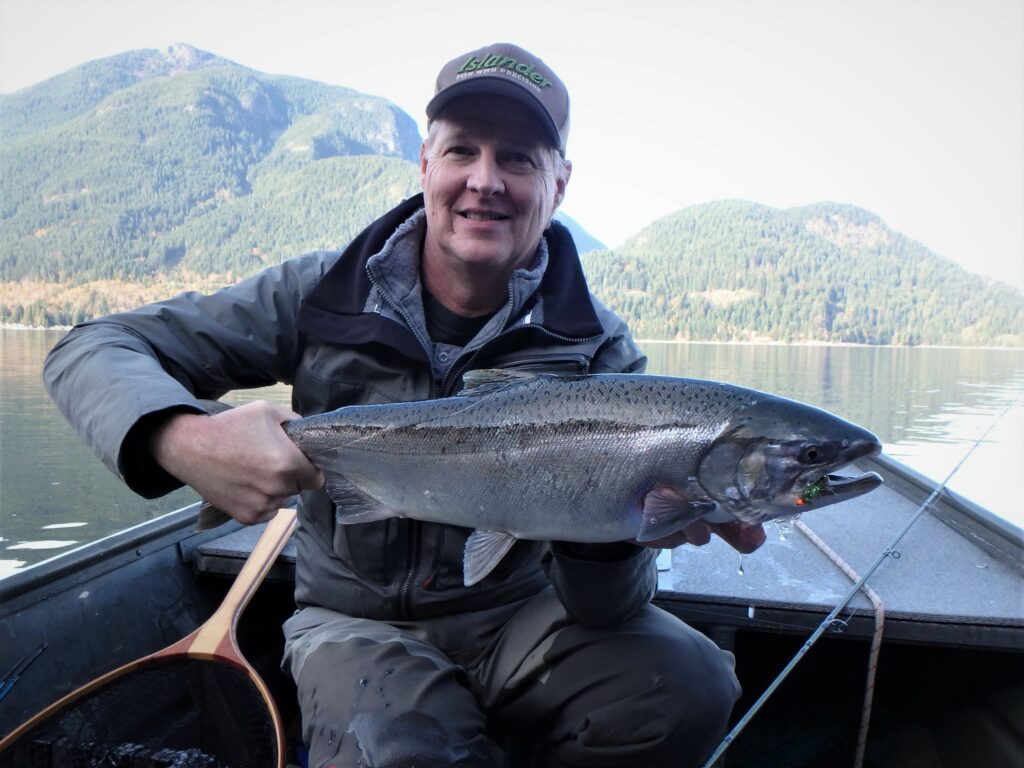 Small Boxes Become Suitcases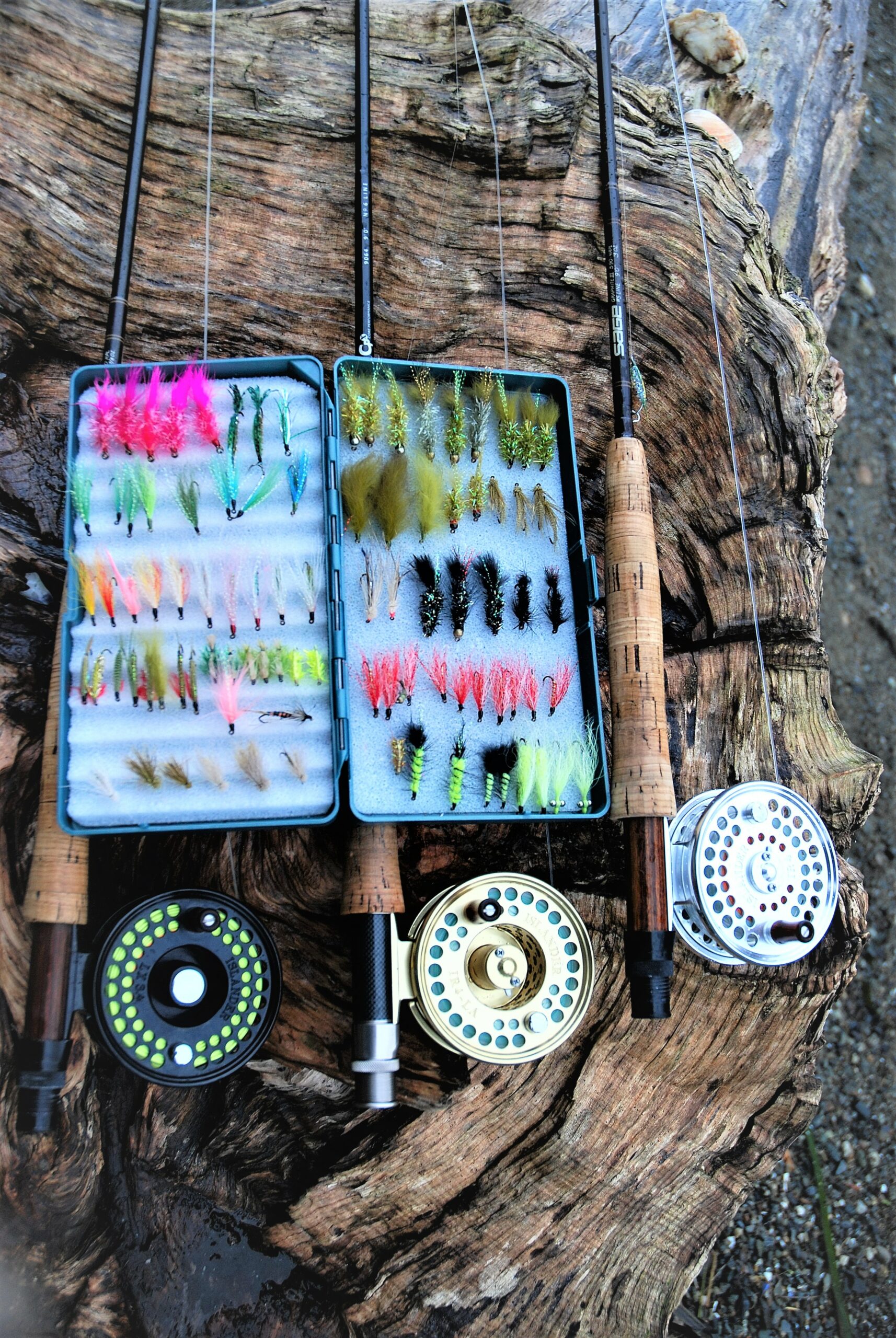 After tying flies for over four decades my personal fly collection has now grown to a point that even surprises me when I start going through all the flies while packing for a trip. The insanity starts every time a new material comes out on the market and us fly- tyers must buy the newest material in every color available. I will be the first to admit it is kind of an addiction. Every time I go to the vise with new materials, I start tying a half dozen flies with each color and usually in several sizes. Over time my small fly boxes have evolved into suitcases that contain close to a thousand flies in each.
A few winters ago, I went through my cases to see which flies needed to be topped up for the up coming year. While doing this exercise I soon realized that many of the flies used all shared one common characteristic, they contained green in them in some form. Whether they were for salmon, trout or char often the flies contained green. The ironic part about it is, I had never even noticed that my flies had evolved to this point over the years. My fly boxes do contain thousands of flies in other colors, but once on the water I grab for a green fly as I have the most confidence in them.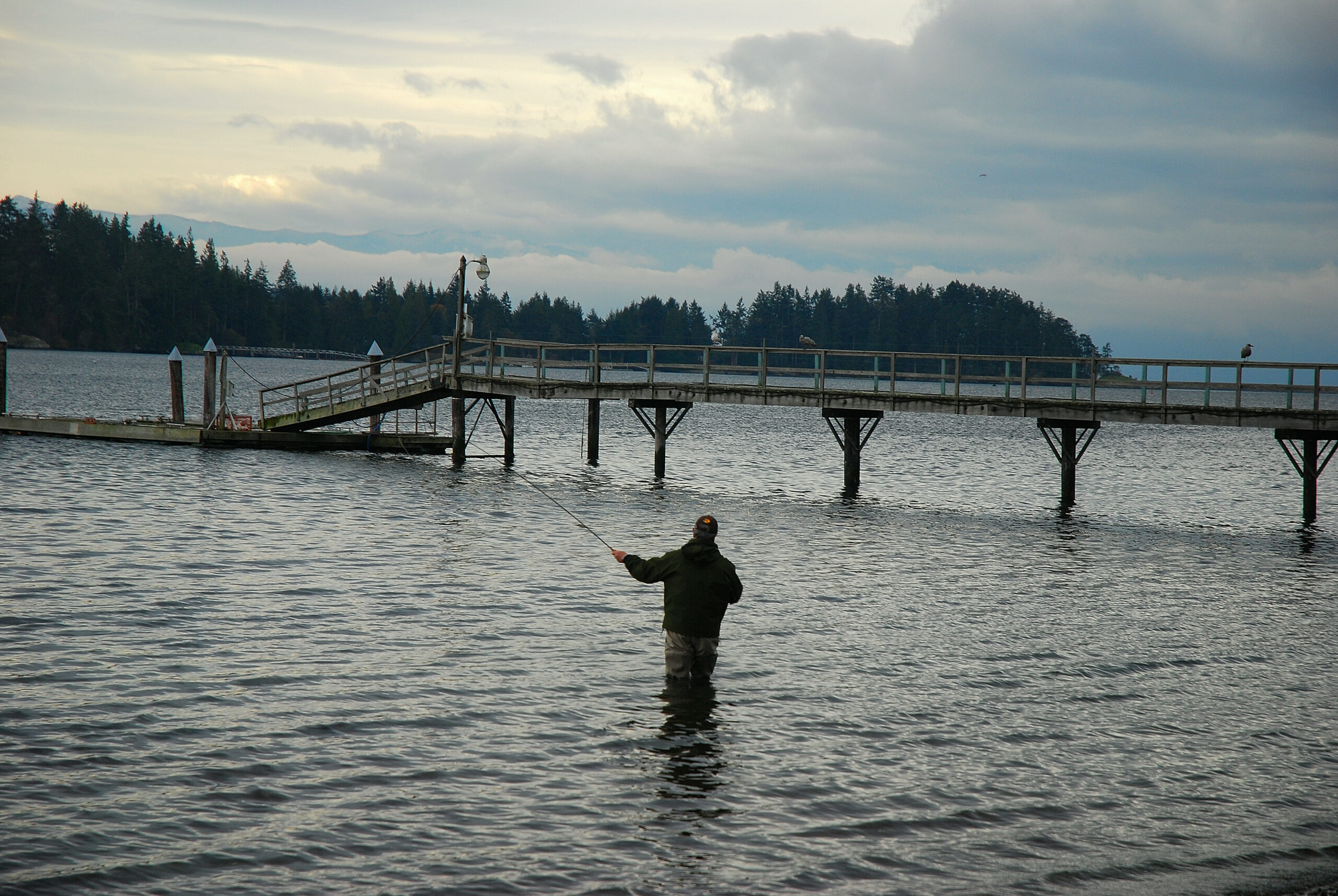 Keep 'em Small & Sparce
When it comes to beach fishing for Coho one of my most productive patterns is a small green and white calf-tail pattern tied on a number #8 hook. I use silver tinsel for the body and tie the wing quite sparse placing white calf-tail over the green. I have tied this fly several different ways but more times than not the fly contains some shade of green on it. This fly works extremely well for staging coho at creek and river mouths along our coastal beaches. As coho are not aggressively feeding at this point I retrieve the fly quite quickly using a clear intermediate sinking line. I find this fly also works great for sea-run cutthroat, but I usually tie it on a # 10 hook and fish it with a four to six weight outfit. Whether targeting coho or cutthroat in the ocean the key is to keep the green streamer patterns small and sparce.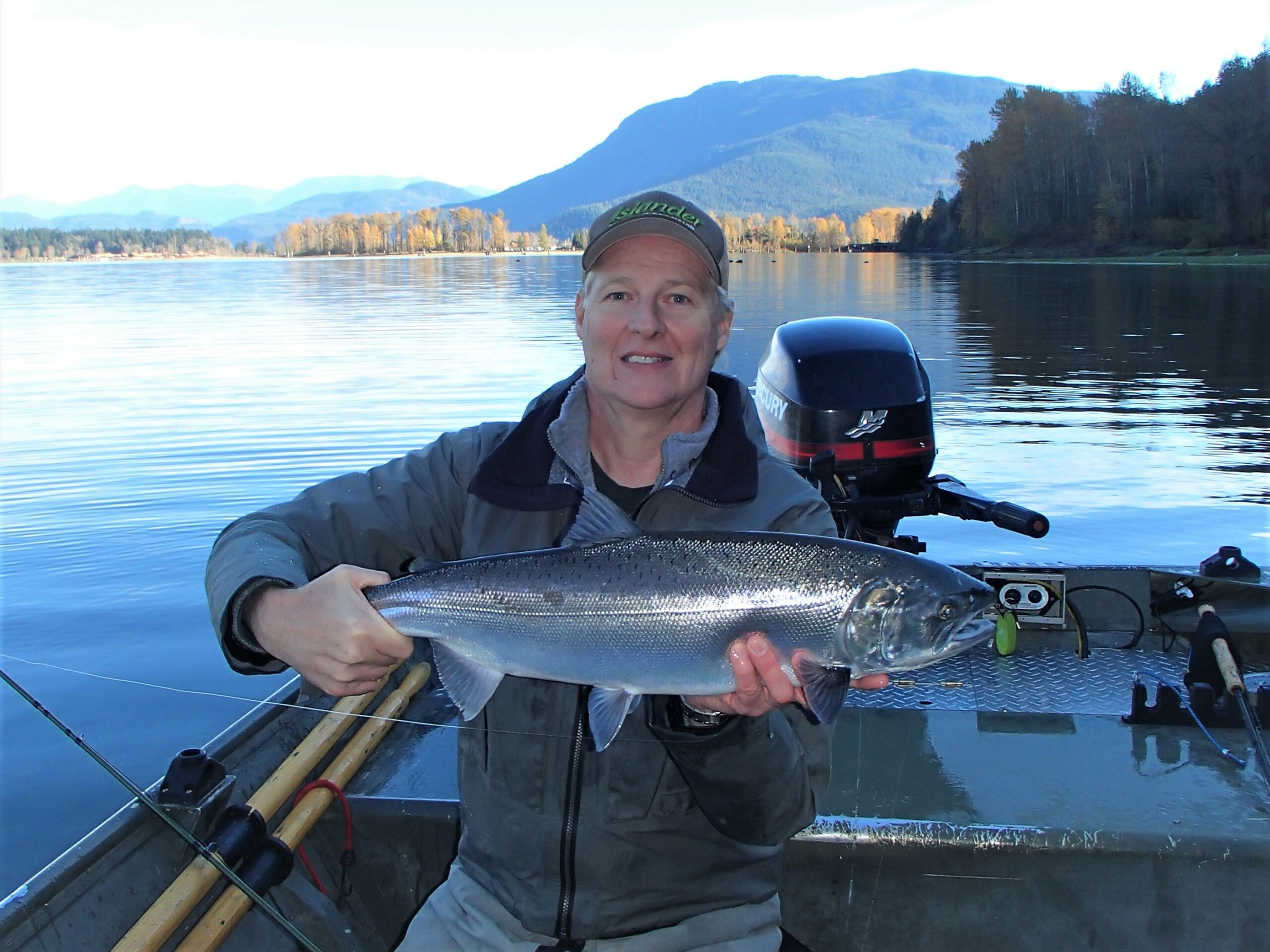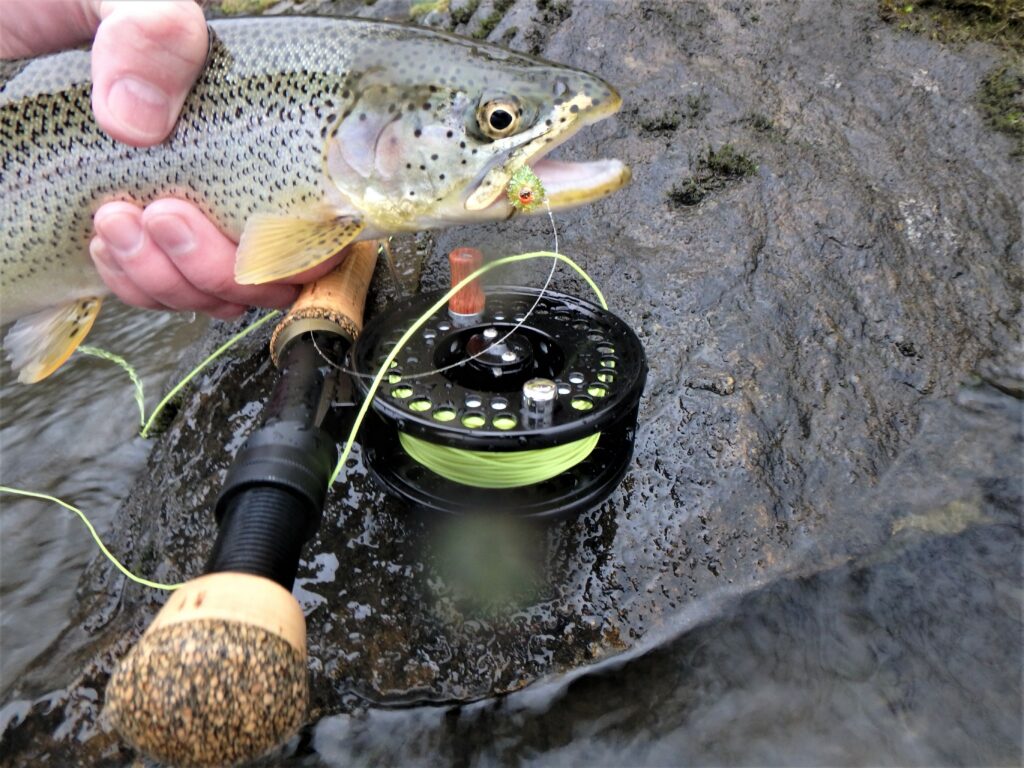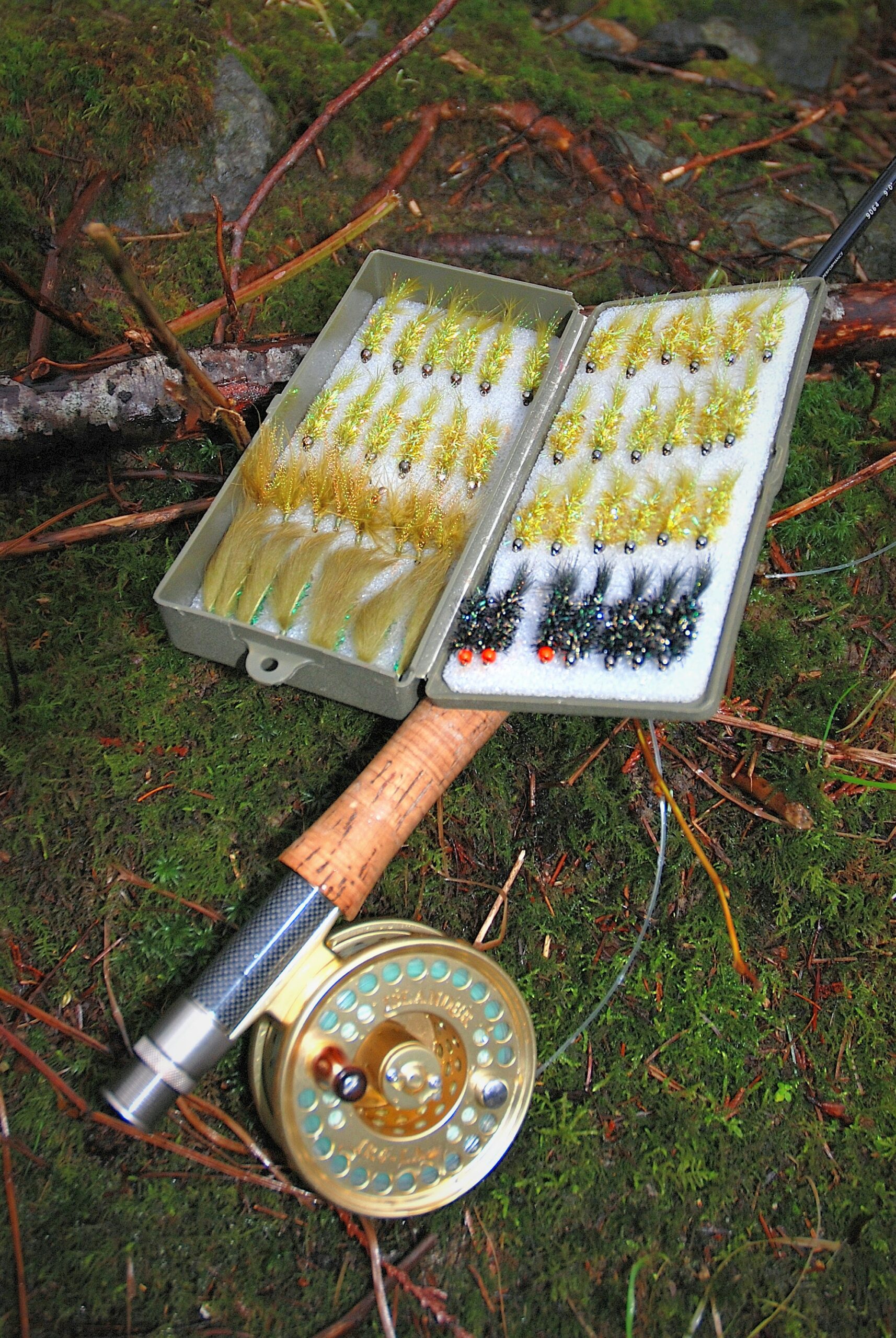 One of the most difficult fisheries I have ever experienced over the years is getting non-tidal coho to consistently take a fly. Coho definitely become more selective once they leave the ocean as they are thinking more about spawning than feeding. A very productive fly for tidal coho is an olive-green Woolly Bugger. This fly can be tied a thousand different ways but tying it with olive green sparkle chenille will usually entice these weary fish to strike. Over the years the traditional Woolly Bugger has evolved to be a simple tidal coho pattern. On a #8 hook I use green rabbit fur for the tail with a half dozen strands of crystal hair added on top for flash. The body is simple consisting of medium green crystal chenille wrapped on the hook. I add a brass or orange bead to the fly which allows it to sink and somewhat swim in the water when retrieved. This fly is not only simple and inexpensive to tie but it is also very productive when fished in slow moving water.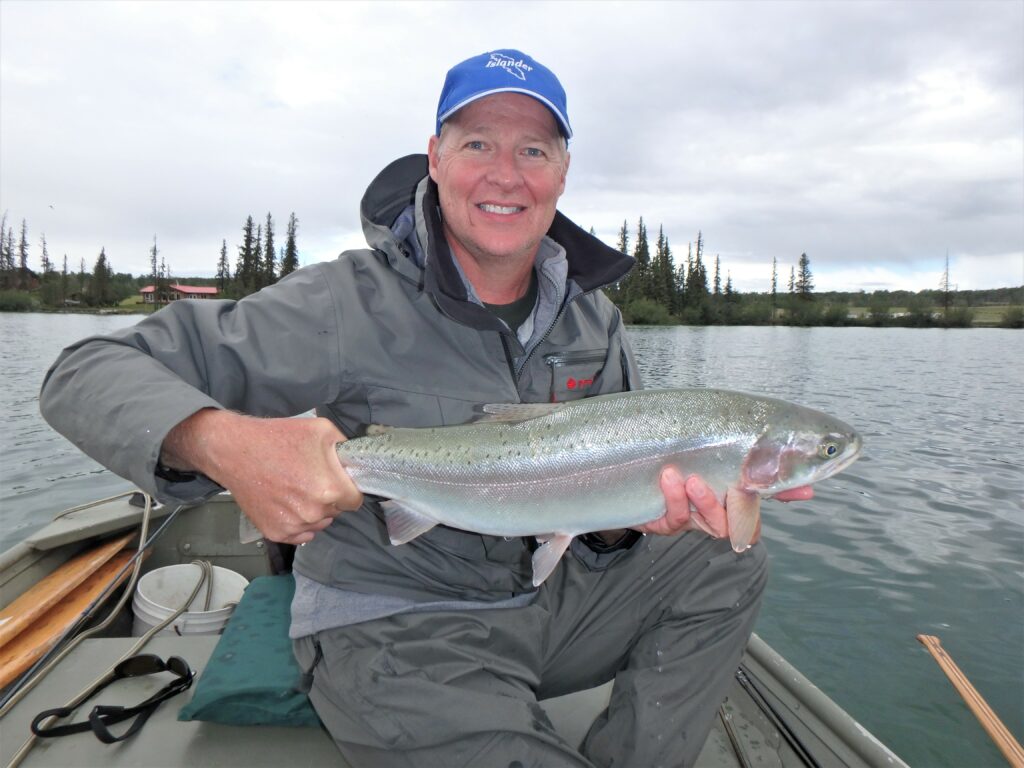 The use of green flies doesn't just apply to sea-run cutthroat and coho; I also find that green works well in Stillwaters for rainbow trout, brook trout and cutthroat trout. When fishing our interior lakes make sure to try some of your old favorites using green materials. For example, many anglers use Doc Spratley's and Cary Specials tied in green and find they work better than the originals. Any of the common insect patterns like dragon nymphs, damsel nymphs and leeches can be tied in a variety of green shades too as the natural ones are often green depending on the lake. As for brook trout they love larger sparkly patterns tied with lots of flash. When sight fishing brook trout with there patterns retrieve the line quickly to draw attention to your offerings. When targeting bull trout, brown trout, or dollies in moving water try using larger green rabbit strip zonkers or green muddler patterns as they imitate bait fish that are in most rivers. These flies are also easy to tie and can be tied a variety of sizes and shades. As rabbit tends to sink slowly, I often use a bead or wrap the hook with lead when tying zonkers for moving water.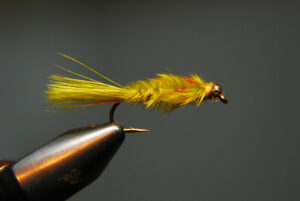 Green Damselfly Nymph Pattern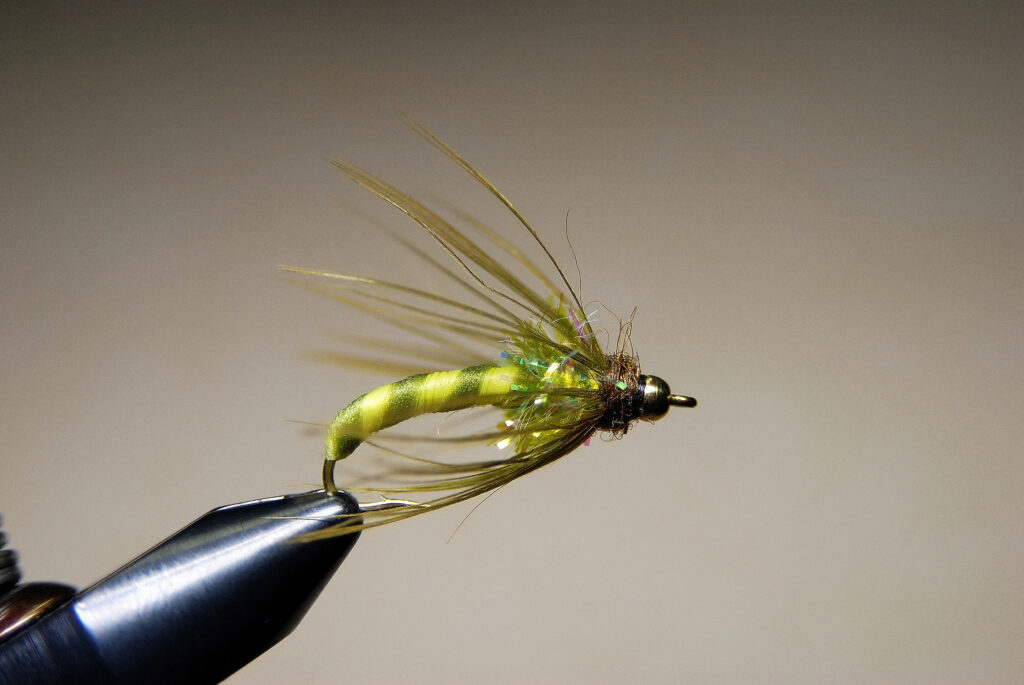 A great all-round green attractor pattern for Stillwaters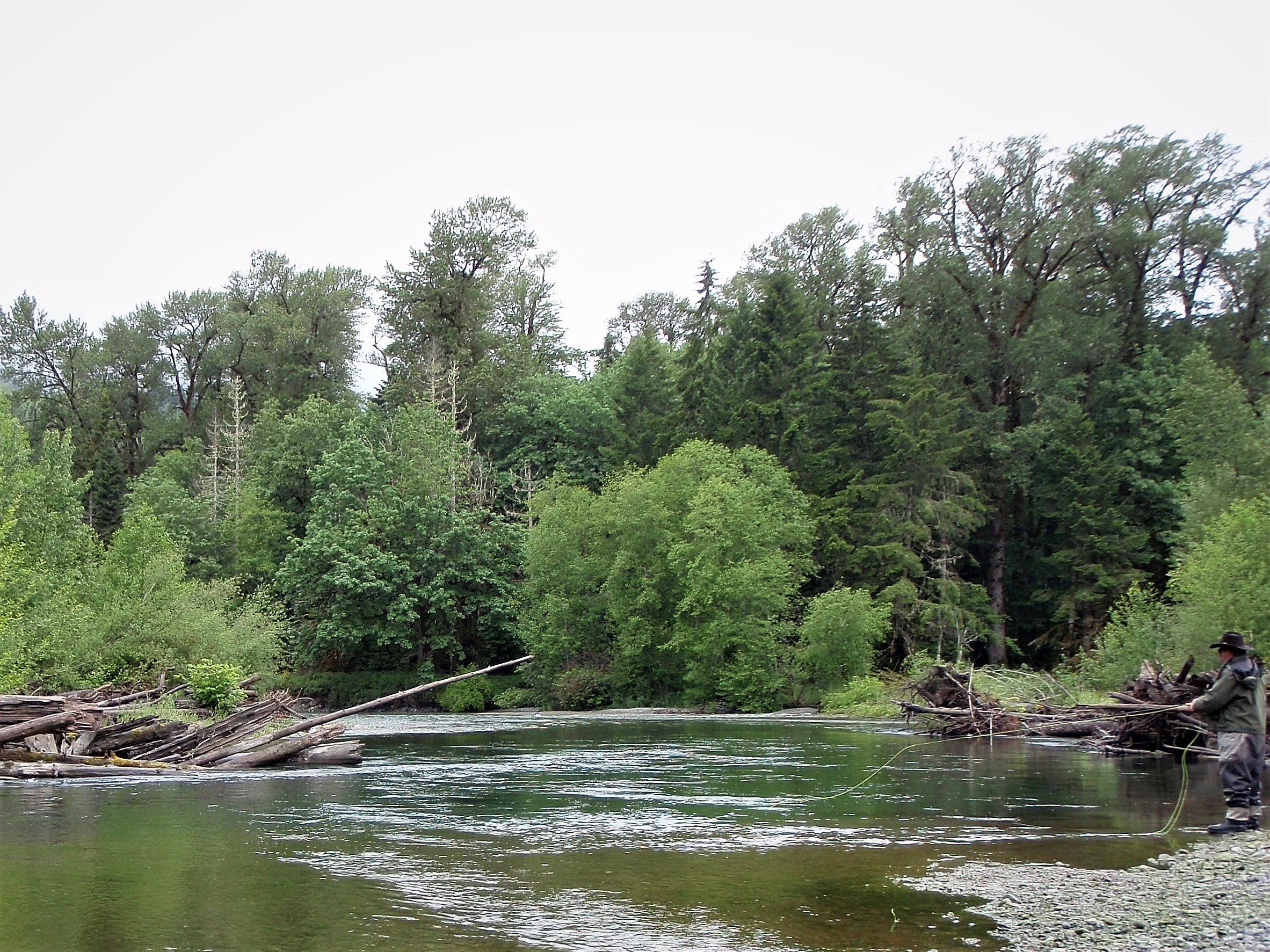 Open your Eyes to the World of Green Flies
Next time you are sitting at the vice wondering what to tie, take a familiar fly and put green twist in it, with any luck the added green will give you good success too and open your eyes to the world of green flies.
Tom Johannesen
Tom Johannesen grew up fishing but at the age of 23 he had his first article published in a British Columbia Federation of Fly Fishers (BCFFF) newsletter and something changed.
Since that first article, Tom has been on a mission to master his craft and to share what he has learned with others. With over 200 articles published in magazines like BC Sport Fishing, BC Outdoors, Outdoor Edge, Canadian Fly Fisher, Home Waters, Reel Angler, Western Angler and Island Fisherman, it's clear that it's a mission he takes seriously. He also regularly hosts seminars and tutorials at fly clubs and shops in the hopes of lighting that spark in the next generation.
To learn more on Pursuing Coho read Tom's last article here